ES Broadcast replaces 15-year-old console at central London facility with a Solid State Logic System T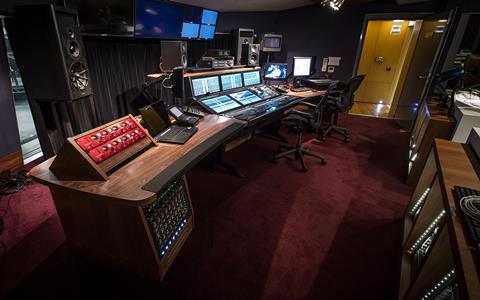 Systems integrator and broadcast reseller ES Broadcast has completed an audio facility upgrade at the Hospital Club Studios in central London.
ES Broadcast installed a Solid State Logic System T broadcast production environment to replace the existing 15-year-old console in the music control room.
The newly installed system allows The Hospital Club Studios to move to a network-driven stage-box solution, said Jonathan Lyth, ES Broadcast's technical director.
"The System T production environment allows audio engineers greater flexibility to move connectivity around the facility with minimal core connectivity requirements."
ES Broadcast carried out several other improvements to the studio facility at the same time.
The former TV audio control room next to the main TV gallery was removed and repurposed into a multi-function space that allows studio operators to create a more comfortable production area for larger teams by moving vision control, graphic effects and replay between the main gallery and the new second gallery.
ES Broadcast undertook systems integration design to ensure compatibility between new and old technology, with minimal disruption to the studio's ongoing production schedule.
The project also included video and control upgrades, as well as new Sony OLED and JVC LCD video monitors, and the installation of new technical furniture from AKA Design.
Ease of use was a major factor in the decision to install the SSL system. "Everything is so straightforward – the navigation, the routing," said Simon Wall, sound supervisor at The Hospital Club Studios.
"Feeling like you can use it is the key thing. Most sound supervisors who sit in front of it get a short tutorial, and they're off."
While many shows don't require the studio's full capability, large multi-stage productions can be easily handled by the system, said Wall.
The installation factors in flexibility for any future expansions The Hospital Club Studios may undertake, said ES Broadcast's Jonathan Lyth.
"System T uses a Dante-native and AES-67 compliant IP network for I/O and stagebox connections, and SSL has committed to supporting emerging standards such as SMPTE 2110. This guarantees wide third-party interfacing into the future," he said.