A revolution in real-time visual effects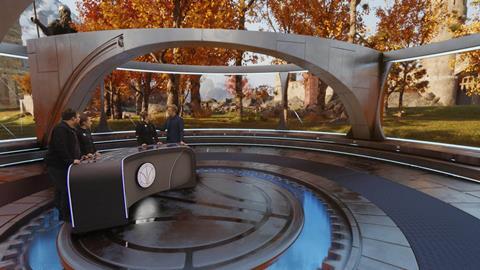 Marc Petit, general manager, Unreal Engine Enterprise at Epic Games, reveals how real-time game engines are enriching production, enabling interactive storytelling and real-time CG production.
"We've seen commoditisation in creative environments for years, and the broadcast industry is no exception. Dedicated hardware and proprietary graphics platforms are being augmented and replaced with off-the-shelf software.
As broadcast production environments—including newsrooms, post facilities and studios continue to modernise, the promise of radically transformed workflows continue to surface.
Broadcasters are just beginning to scratch the surface of applying video game engine technology to achieve creative milestones in interactive and real-time CG production.
Arenas that were once limited to static video can now be populated with dynamic content, opening up new worlds of interactive expression and storytelling.
While there are many solutions dedicated to incorporating computer graphics into live broadcasts, they are often proprietary with complex authoring systems, and may have limited visual fidelity.
Connecting a real-time game engine to a broadcast graphics solution gives creatives access to higher visual fidelity in real time.
Unreal Engine offers tools and resources that have been battle tested for years by game developers to facilitate interactive storytelling and real-time rendering.
Early adopters of Unreal Engine in broadcast have achieved a new level of quality and creativity for their projects by connecting the ecosystem of broadcast technology to the game engine environment.
And, when CG assets, scenes and virtual sets live in Unreal Engine they can very easily be adapted to VR, AR and other forms of digital experiences.
Virtual sets eliminate high costs associated with physical sets, and the real-time production power means that complex scenes can be shot live, without requiring extensive post-production, further driving down costs.
Special effects and CG elements can be added to a scene instantly and can interact with characters in real time, allowing for greater flexibility with creative decision-making.
Zero Density's technology and Unreal Engine were recently used by France Télévisions to quickly produce an intricate photo-realistic virtual set of the Palais de L'Elysée, the French presidential office, for a broadcast announcing returns from the country's recent elections.
The level of detail achieved in this virtual set would not have been possible to produce efficiently without the real-time Unreal Engine environment.
The Future Group uses Unreal Engine and Ross Video technology in combination with its own interactive mixed reality platform to produce Lost in Time (pictured above, and video below), an episodic series in which contestants compete in spectacular interactive virtual environments.
The show incorporates use of real-time visual effects and second-screen gaming for viewers at home to play along. Combining interactive mediums with traditional entertainment opens up new doors for the creative community, and drives newer levels of viewer engagement coveted by advertisers and sponsors. This next-generation level of programming is just the tip of the iceberg.
With an eye to upcoming global sporting events such as the World Cup and Winter Olympics, broadcasters are exploring strategies to differentiate their programming and ultimately enhance the viewer experience on all screens.
As a result, we're seeing major networks around the world invest in real-time engines and standardise on new tools that make it easier to integrate game engines with existing pipelines.
Broadcasters today have access to customisable cinematic content for virtual sets, and these assets can instantly be adapted to interactive programming, immersive experiences and traditional mediums. With this technology, it's no longer a matter of better, faster, or cheaper—pick two. You really can have all three.