London post house will house ITV Creative's team of promos producers following the closure of The London Studios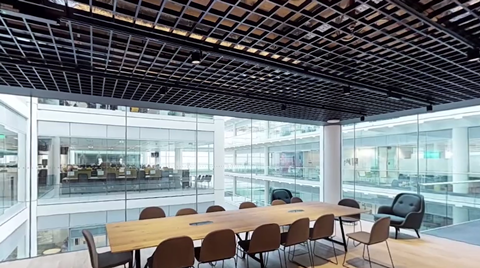 ITV Creative has opened a large-scale post-production facility at 200 Gray's Inn Road. The facility is the new home for ITV Creative's promo production teams, following the closure of The London Studios earlier this year.
In excess of 40 Avid editing suites, audio mixing rooms, voiceover facilities, transcoding, automated promo-versioning and content delivery systems were migrated to the new facility. "The aim was to create a modern, vibrant facility that improved workflows in an environment that encouraged collaboration and creativity," says ITV.
The ITV Creative team plan and create more than 1,000 promos a month for on-air broadcast and digital, social and outdoor marketing campaigns.
Post-production consultant Michael Wrightson – who was formerly head of technical operations, post-production at ITV – created the concept design and technical project management for the facility.
Level Acoustic Design was the acoustic consultant, system design and integration was provided by Dega Systems, HHB Scrub looked after all the audio requirements including new Avid S6 pro tools systems. ITV's in-house tech support team and Hyperactive Broadcast were also heavily involved in the project.
Director of ITV Creative and Experiences, Matt Scarff said: "ITV Creative is now one of the most technically advanced creative production teams in Europe. Our purpose-built post facility is able to support the full range of agency requirements, including grading, Dolby surround as well as dedicated recording suites linked to playout for our team of ITV continuity announcers".
Nick Haworth, head of technology, Studios, ITV added: "That we were able to move a technical facility of this complexity with little or no impact on business operations is a testament not only to the technical skills of the people and suppliers involved, but to the extraordinary dedication and teamwork they displayed to make it happen on time."