The VFX and animation house has made a series of senior staff changes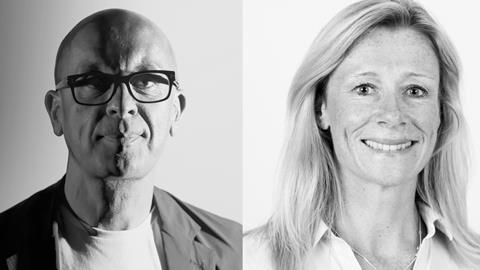 VFX house Jellyfish Pictures has promoted Matthew Bristowe (pictured, above left) to managing director and Sarah Tanner (pictured, above right) to director of operations.
Bristowe joined Jellyfish in 2019 as director of operations, and has had more than two decades of experience in the VFX industry, including senior roles at MPC, DNEG, Technicolor and One of Us.
His step up to managing director will see him tasked with the day to day management of the company as well as growing revenue across Jellyfish's VFX, art department and feature animation businesses.
Tanner joined the company in 2017 as HR director. Jellyfish says that during her time in this role, she has "been instrumental in the successful expansion of the company's animation business, opening of new studios and the move to remote working during Covid."
Her promotion to director of operations "recognises these duties in an official capacity," says Jellyfish. In her new role, Tanner will oversee all operations and resources in addition to her HR responsibilities.
Jellyfish has also taken on new staff to support Bristowe and Tanner in their new roles. Martin Weaver joins as head of infrastructure, and Eva Kilikitas joins as HR manager.
Jellyfish CEO Phil Dobree, said: "The new roles given to Sarah and Matthew are in recognition of the stellar work they have been doing over the past year. I have full confidence in their ability to work with me and the leadership team to deliver the next stage of our growth strategy. This roster of new appointments signifies the next step in the Jellyfish journey and the commitment to our future growth."