Named The Jack Cardiff Theatre, it is the largest room of its kind in London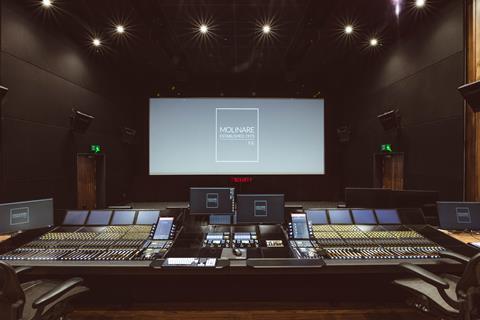 Molinare has opened The Jack Cardiff Theatre, a Dolby Atmos 4K HDR theatre.
It claims to be the largest room of its kind in London, and offers both sound mixing and grading from Molinare's Soho office.
The theatre was previously a grading suite, and structural changes were made to adapt it to the acoustic demands of a Dolby Atmos room. Acoustic architects Level Acoustic Design and audio and cinema specialists HHB and Bell Theatre Services provided the majority of the kit for the expansion.
The upgrade includes two large 32-fader S6s designed for Dual-Operator use, configured in a 16ft wide, fully flexible console system, custom built by audio design specialists, Soundz Fishy. There is also a Christie 4K HDR Laser Projector and eight metre screen, with a grading desk equipped with the latest Baselight.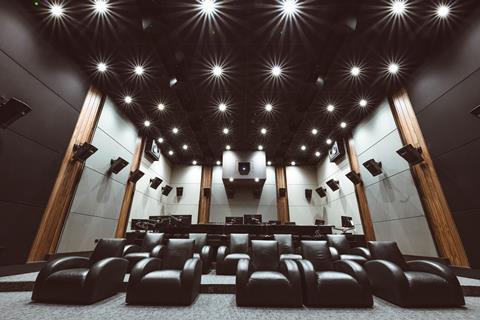 Additional kit includes multiple Pro Tools HDX Rigs, with the latest Avid MTRX and Sync X interfaces for audio routing & synchronisation as well as SPQ Processing for speaker calibration, as well as an Adder KVM over IP matrix in use for all systems with multiple adaptable mix & edit positions.
The room uses Dante Audio over IP solutions, integrating Molinare's other Atmos suites and audio endpoints. These include Focusrite Remote Mic Preamps for use when recording foley, crowd & ADR, Glensound AD/DA & headphone amps, and Crown Dante amps feeding JBL cinema speakers.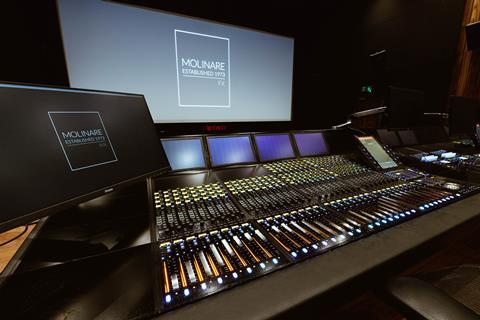 Molinare CEO Nigel Bennett said: "The UK has always been one of the number one destinations in the world for a studio or director to get their film made. We have the best creative talent and technical minds to deliver the very best, that's why it's such an exciting industry to work in.
"The re-opening of our Jack Cardiff Theatre is not only a personally proud achievement for the team and I, but is a testament to Molinare's growth plans and a draw for the UK Creative Industries as a whole."