The pre-beta of FirstStage is available now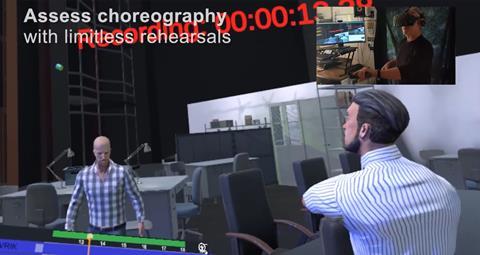 Animation software maker Moviestorm is releasing a free pre-beta of its forthcoming FirstStage virtual production studio software.
FirstStage is a suite of tools that aims to demystify the skills needed to create virtual productions and has taken five years in R&D to produce.
It uses VR to enable pre-production teams to build, explore, test and plan creative productions together on virtual stages.
Production designers can create 3D models to mock up and analyse location and stage sets; directors can choreograph the scene action using keyframe, mocap and physics animation; and DoPs can block out the shot lists using virtual professional cameras.
Content created in FirstStage can be exported as storyboards, animatics, shot lists and other scene data.
The software can be downloaded now (it's currently PC only) from firststage.moviestorm.co.uk
Moviestorm CEO Andrew Kennedy, said: "It has been a great five year journey to get to this exciting point, where the years of expert R&D behind FirstStage has been productised and made available in a cohesive virtual production studio that anyone can use to previs their production.
"At any time, from anywhere, any production team member can get involved on a real-time virtual stage, to test ideas and remotely add their voices and experience to identify issues and opportunities in pre-production when it counts, lowering production risk and increasing production efficiency."