The VFX house has made four senior hires, adding two VFX supervisors and two VFX producers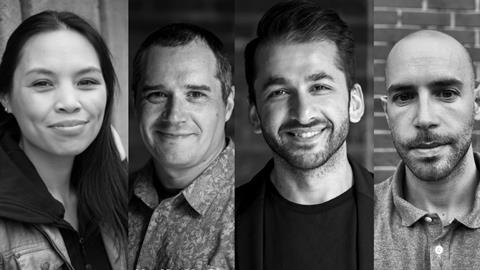 PICTURED (From left to right): Lisa Purisima, Carlos Cabellero, Khalid Almeerani and Florent Villegas
MPC Film has taken on four senior hires to deliver VFX for some high-profile forthcoming features. Khalid Almeerani and Carlos Cabellero become MPC Film VFX supervisors, while Lisa Purisima and Florent Villegas join as VFX producers.
Almeerani has a decade of experience in VFX, with a background in computer graphics and photography. He has extensive on-set experience and has worked as CG supervisor on Infinite, directed by Antoine Fuqua, and the Netflix series Shadow and Bone.
He's also been environment supervisor on Disney's Call of the Wild and Universal's Dolittle. He oversaw the environment builds for Godzilla King of the Monsters and was environment artist on both The Martian and Ghost in the Shell.
Cabellero has recently worked as digital effects supervisor on Ghostbusters: Afterlife, Infinite and Bullet train. He has more than 15 years' experience in computer graphics for major feature films, and previously worked at MPC Film in 2009 as a digital compositor and lead artist, working on features such as The Chronicles of Narnia: The Voyage of the Dawn Treader, X-Men: First Class and Skyfall.
Cabellero's credits also include working as digital effects supervisor for Maleficent: Mistress of Evil.
Purisima has previously worked as a VFX producer on The Morning Show, Big Little Lies, Barkskins, and Clouds. She has over a decade of experience on Emmy-nominated scripted series and critically acclaimed films.
Villegas originally joined MPC Film in 2016 as a VFX production coordinator, and has worked on titles such as X-Men: Apocalypse, The Legend of Tarzan and Alien: Covenant.