Visual effects house awarded Oscar for its work on hit war film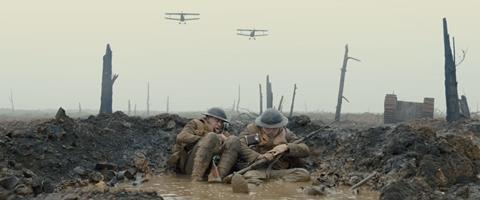 MPC Film has landed an Oscar for its visual effects work on 1917. It was the lead VFX vendor with around 600 artists working on the production. Its work included digital environment extensions for scenes such as No Man's Land, the canal crossing, the burning village of Écoust, and Schofield's jump into the river.
It also contributed various destruction, pyro, and water effects to help bring the World War One battlefields to life.
Another key area was 'stitching' work, which allowed director Sam Mendes to give the impression of long, uninterrupted takes while creating his vision.
The war epic also picked up Academy Awards for sound mixing and cinematography after being nominated in numerous categories. It has also been a big success at the box office, picking up an estimated $60.4 million worldwide in its opening weekend and gaining plaudits for its striking depiction of World War One.
Production VFX Supervisor Guillame Rocheron accepted the award on behalf of the MPC team. He said: "What an honour to be recognised by the Academy for our work on 1917. I am grateful for the opportunity to collaborate with Sam Mendes on such a unique and memorable film and am proud to share this award with the team at MPC that made this cinematic experience possible."