Grading house Mytherapy leaves Warner Bros De Lane Lea to refocus services in LA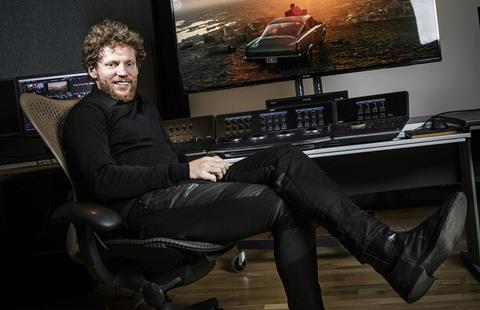 Colour grading house Mytherapy has closed its Warner Bros De Lane Lea (WBDLL) base and moved its operations to Los Angeles, where it will refocus on software development.
Mytherapy, which is run by colourist Dado Valentic (pictured above), has operated as an in-house grading facility at WBDLL since 2015. It was set up in 2004 and was initially based in west London. It moved to a number of different offices in Fitzrovia before finally settling on WBDLL. Mytherapy launched a US branch, Versatile Colour, in 2014, in association with Manhattan-based Versatile Studios.
"Post-production is interesting, but the business of post is more about chasing margins, not doing revolutionary things when it comes to creativity," Dado Valentic
Mytherapy is best known for its work on emerging technologies, having been one of the first facilities to offer dedicated grading services for stereoscopic 3D, 4K UHD and HDR.
Hand in hand with embracing new tech, Mytherapy began creating its own specialist grading tools five years ago, launching an online 'look' store providing 'building blocks' to use as a starting point for creating different grades.
Valentic has now decided to move away from providing post-production services in favour of growing the software development side of the company. He told Broadcast: "I'm moving all operations to LA and the core of the company operation will be focused around the development of software tools for colour grading.
"Post-production is interesting, but the business of post is more about chasing margins, not doing revolutionary things when it comes to creativity."
He added that, following his move to LA, he will continue to grade the occasional project and will even keep a streamlined London operation running in Fitzrovia, but he doesn't need the Warner Bros base anymore.
Mytherapy's software development division will be branded ColourLab. Its initial product is a Resolve plug-in (pictured below) that works in a similar way to Mytherapy's 'look' store. The plug-in makes it possible to create what Valentic said are "beautiful looks" from different camera footage.
"The plug-in gives you a wide selection of contrast curves that work on the log material from whatever camera you've been working with," explained Valentic. "You can then choose your colour palette – there are warm, friendly palettes, film stock emulations, cold palettes, and so on – and start further tweaking the look."
HDR release
An HDR version of the plug-in will also be released, which can take an SDR grade and turn it into HDR and vice-versa. It enables colourists to work in parallel with both SDR and HDR grades in Resolve, to create both masters from one grading session.
Valentic said ColourLab's products have already been used on a number of high-profile feature films and TV series.
His next plug-in will make it possible to grade VR productions with a VR headset on, while using Resolve.
A future project ColourLab is working on uses AI and Machine Learning to train the computer to do colour grading. "I believe it will be a game-changer," said Valentic. "It will integrate into any existing post infrastructure and work as an assistant that takes over the bulk of the manual work colourists now have to do themselves."
The Resolve plug-ins will be demonstrated at the BSC Expo show at Battersea Evolution on 2-3 February.