Expansion enables Pinewood Studios to offer end-to-end production service for high-end TV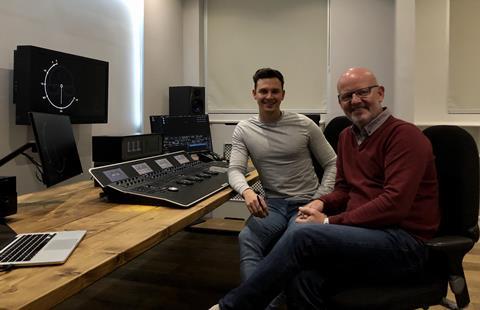 Grading house Narduzzo Too has expanded its services at Pinewood Studios by opening a Dolby Vision-certified 4K High Dynamic Range (HDR) colour-grading suite.
The suite is one of a limited number of Dolby Vision-approved grading rooms in the UK and will be run by colourist and company owner Vince Narduzzo, along with colourist Harry Conquest.
The expansion is in response to moves by Netflix and Amazon to increase the number of titles they offer in 4K HDR, and is specifically aimed at high-end TV productions.
Narduzzo Too's Dolby Vision-certified 4K HDR grading room is equipped with Digital Vision's Nucoda Film Master grading system and Precision control panel. The reference monitor is an Eizo ColorEdge Prominence HDR display and the facility has also invested in high-speed storage to handle 4K content.
Narduzzo Too's first job in the suite is a Netflix project – Ricky Gervais' 6 x 30-minute drama After Life, which went to another Pinewood-based company, Outpost Facilities, for its 4K online edit.
This collaborative approach, where multiple facilities at Pinewood work together on high-end TV productions, is a strategy that will be actively pursued in the future.
Narduzzo told Broadcast: "Pinewood can offer the whole end-to-end production – from the stages to the cutting rooms to complete 4K Dolby Vision HDR post-production and immersive audio finishing. There's no doubt HDR Dolby Vision is here to stay. We believe this is the future for all quality television."
Nigel Gourley, owner of Outpost Facilities, which has also recently invested heavily in 4K HDR finishing facilities, said: "We are offering something unique at Pinewood: boutique high-end facilities with industry-leading talent under one roof.
"Pinewood is becoming a post-production destination for high-end TV. It's the only place in the UK that offers large studio spaces and post-production facilities right from camera to 4K Dolby Vision and home Dolby Atmos mixes in one location."
Pinewood group director, creative services, Nigel Bennett added: "Pinewood is known for its stages for film or TV productions, but alongside these are a host of creative services, from camera through to sound finishing and final delivery. These offer productions a collaborative working environment for the next generation of film-makers."
In addition to Narduzzo Too's grading rooms at Pinewood, it has a third grading facility in Tring, Hertfordshire. Its recent productions include Holby City and Casualty for BBC1 and Bentley Productions' Agatha Raisin for Sky 1.