The school's newly upgraded 150-seater cinema and flagship dubbing theatre get Dolby's seal of approval for Atmos immersive sound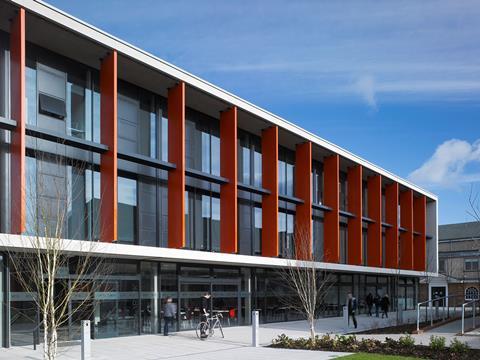 The National Film and Television School (NFTS) has received Dolby Atmos accreditation for its newly refurbished Oswald Morris Cinema, and its flagship dubbing theatre. The organisation says it's become one of Europe's only film schools with Atmos certification.
The 150-seater Oswald Morris Cinema was recently upgraded to gear up for Atmos, increasing the number of speakers from 14 to 41 to provide side and overhead Dolby Atmos surround sound. The screen size also increased from 7m to 10m, equipped with a 4k Digital Cinema Projector.
Meanwhile, the NFTS's largest dubbing theatre – where the Hammer Horror films were recorded – was upgraded with an additional 28 speakers for Dolby Atmos around the walls and ceiling. It also has the latest Avid, Dolby and ProTools equipment, a newly built Baffle Wall, and a full size cinema screen. It has also been repainted and had new carpeting fitted throughout.
The work at NFTS was funded by Buckinghamshire Local Enterprise Partnership, which promotes economic growth across Buckinghamshire.
NFTS Director Jon Wardle said: "The installation of Dolby Atmos at the NFTS gives us the ability to offer world class facilities no other UK film school can match. I am eternally grateful to Buckinghamshire LEP for making this upgrade a reality, which ensures our students can use and enjoy the very best in cutting edge sound and vision technology. The new facilities will also enable us to further our work in the National Centre for Immersive Storytelling."