Lead vendor DNEG delivered over 800 VFX shots over 24 sequences
Ghostbusters: Afterlife was released last month, bringing the original franchise back to life through the story of original member Egon Spengler's (Harold Ramis) grandchildren discovering their grandfather's secrets.
Directed by Jason Reitman, the original cast of Bill Murray, Dan Aykroyd, Ernie Hudson, Annie Potts, and Sigourney Weaver is reunited, minus the late Ramis, and star alongside Carrie Coon, Finn Wolfhard, Mckenna Grace, Paul Rudd, Logan Kim and Celeste O'Connor. It was produced by Ivan Reitman and his The Montecito Picture Company alongside Right Of Way Films, Columbia Pictures, Bron Creative, and Ghost Corps.
DNEG delivered over 800 VFX shots over 24 sequences for the film as lead vendor, developing all of the main characters, from concepts to final shots. Characters ranged from tiny mini-puffs and small supernatural manifestations made of marshmallow to earth-shaking poltergeists, and the DNEG team also modernised the classic Ghostbusters technology, including famous proton beams and traps.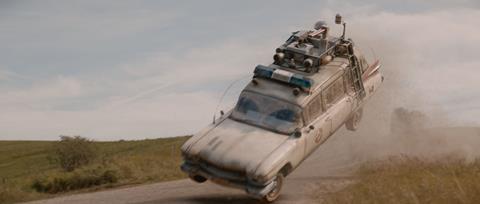 The animation was key to the success of Ghostbusters: Afterlife, with the film dependent on well-created monsters and ghouls. The animation team was encouraged to produce its own ideas, much like the actors on set.
One key creation was the new flagship monster, Muncher voiced by Josh Gad. It used new skin simulation techniques, requiring rigid simulations for the metal in the belly of the model and a skin simulation to wrap it. The skin simulation was styled to feel like the foam latex puppets of the classic film. The project also featured challenging integrations of flip simulations and crown animation of the Horde of Ghosts.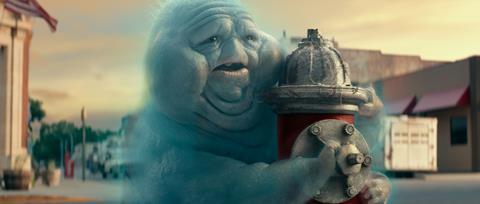 Animation supervisor Carlos Rosas said: "There was a mix of animation styles used in the film. Most characters were animated in a natural, realistic style but some shots required a more stylised 'stop motion' feel, giving a nod to the original movies. Whilst a more realistic approach was used for the Terrordogs (using real dogs as reference), the team used more exaggerated animations with the Minipuffs, which the animators had a lot of fun with."
Image Courtesy of DNEG © CTMG 2021. All Rights Reserved.