Sound designer Scott Gershin explains his work on the Emmy-nominated miniseries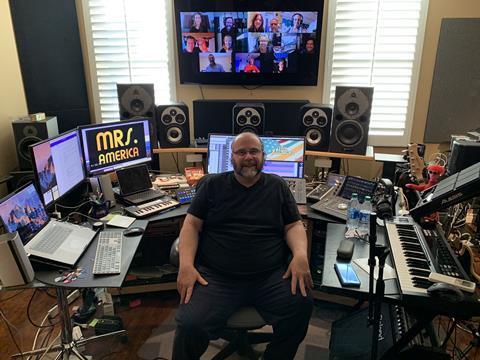 Mrs America explores a real-life, decade-long fight for the introduction of the Equal Rights Amendment (ERA), and unexpected backlash led by conservative activist Phyllis Schlafly.
The production team soon realised there were no existing sound libraries featuring crowds of women. It all had to be created from scratch for Mrs America. While this is not uncommon for big budget films, it was a challenge to pull off within the budget and time constraints of TV.
Led by sound designer, Scott Gershin, LA-based post house Sound Lab (part of the Keywords Studios group) provided audio post-production services including dialog, ADR, Foley, sound design and the mix.
"Production for Mrs America was largely focused on cinematics, with sound used as a tool to support and enrich the storytelling, adding weight to emotional arcs within the show. We would sometimes allow sound and music to take the lead. At other times, we wanted to be minimalistic and use silence as a tool to support the actresses' amazing performances, letting the scene breathe.
We also wanted to make Mrs America feel real – creating an accurate representation of the times. One of the challenges in capturing the voice of the times was making sure that vernacular was correct and that, in any given scene, topics discussed by the characters were relevant to each stage of the ERA movement – such as equal rights for women, abortion, lesbianism or being a black woman running for president.
To create an immersive experience, the filmmakers and I would constantly discuss where to add audio details to the show. It was our goal to make the subtle distinctions between the vast variations of liberals and conservatives of that time, covering the wide range of accents for women across America without being cliche. We wanted the audience to know from character voices exactly where each scene is set, from Washington DC to Illinois to specific areas of New York. We tried to capture the differences between where each character lived, how people spoke, and the different energies of each environment, especially at conferences and conventions.
For different scenes throughout the series, I wanted to recreate a variety of acoustic environments, which were a significant component in the creation of the crowds. I didn't want to rely on reverb plugins. I wanted to capture these sounds naturally within a physical space.
Working with a walla group called The Loop Squad to create the sound of the crowds in the show, we recorded between 8-15 actresses for each episode, using creative mic-ing techniques and acoustical strategies within the room. This small group could then be transformed into hundreds, and sometimes thousands, of female voices.
The last episode of Mrs America was especially challenging to complete, since we couldn't record the actors and actresses from the walla group in the same room used for episodes one through eight, because of the shut downs and social distancing orders caused by Covid-19
I decided to have all the actors and actresses record themselves in closets at home. Some had recording booths in their houses but most didn't. I ended up using zoom to to direct them. The actors and actresses then sent me their individual recordings, which were edited and manipulated to fit in different scenes in the show. In short, we had to do a little 'smoke and mirrors' to pull it off and make the finale sound just like the rest of the series.
As the pandemic started, we needed to find a way for the clients and my editing crew to all work remotely, while still communicating with the mix stage. The goal was to come up with solutions that kept everyone involved in the creative mix process.
To communicate with the mix stage, my team and I ended up using Streambox HD which sent a real-time live feed to everyone's houses. We needed to make sure that all technology was easily accessible and could be utilized on laptops/computers at data speeds that were available at home – especially if kids were taking up bandwidth with online schooling or binge streaming in lockdown. My son was a big culprit here.
Throughout both the editorial and mix process, we had to keep modifying and creating new workflows – sometimes daily – to keep our high level of quality and make our air dates."