Post-production house reveals its work on the grade and audio post of new comedy series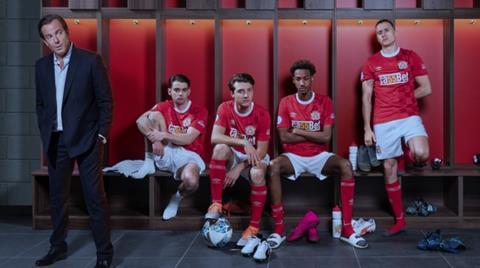 The First Team – the new comedy series from The Inbetweeners creators, Damon Beesley and Iain Morris – follows a hapless football team and their backroom staff.
Splice worked on the post-production of the series, which was shot by DoP Simon Tindall using the Sony Venice with Zeiss Supreme lenses to "create a clean but gently sharp look." Splice head of colour Adam Dolniak liaised with Tindall, Beesley and Morris about the grading requirements - to make the show look and feel as authentic as possible.
Locations were sometimes large with limited access, with lighting concentrated on the actors, while backgrounds were lit using practical lighting.
Splice said this helped "ground the images in the 'real' world and often gave interesting colours that complemented the foreground for Adam to play with."
"The blue hue that can be seen throughout the show, which was instilled through the Zeiss Supremes, was amplified in the grade to enhance the crisp, late-winter look that the team wanted, considering the show is intended to be set in February."
Audio post-production
Senior dubbing mixer, Matt Baird, mixed the series using Pro Tools 12 on the Avid S6 M40 control surface. He was assisted by sound editor Michal Maletz.
The brief for audio post-production was to preserve "the Beesley and Morris stamp of comedy, which is so widely loved," said Splice.
Atmos was kept quite low and ADR was kept to a minimum to "highlight the magic created on-set, which was captured by veteran sound recordist, Bob Newton."
The First Team is on tonight (28 May) on BBC2.