The team explains their work on the new drama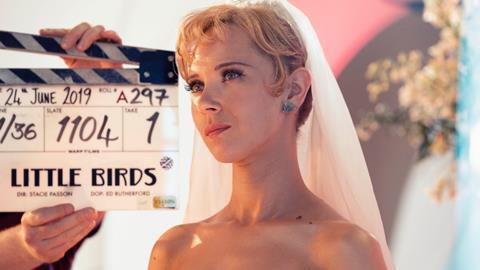 Technicolor has revealed it created 240 VFX shots, a full DI grade, and a Dolby Atmos mix for Sky Atlantic and Warp Films production Little Birds.
Inspired by the short stories of Anaïs Nin, the six-episode 1950s drama follows wealthy heiress Lucy Savage (playe by Juno Temple) as she travels to Tangiers, Morocco to meet her fiance Hugo – played by Hugh Skinner. However, when he isn't as enthusiastic about the meeting as she had expected, Savage finds herself traversing the decadent and vivid Tangiers Interzone.
Director of photography Ed Rutherford, director Stacie Passon, and Warp Films executive producers Ruth McCance and Peter Carlton worked with senior colourist Dan Coles on the show, in collaboration with sound mixers Gareth Bull and Richard Straker, and VFX creative director Gary Brown.
A lot of thought was put into creating a vibrant and dynamic scheme, explains Rutherford: "The dramatization of Little Birds was imagined as a vibrant, stylized melodrama from the outset, steeped in a rich dynamic palette that would push its own boundaries and seek to realize an aesthetic of wondrous colour and a creative expression of visual stimulation."
He continued: "The excitement Dan took in developing the LUT package during prep was something that I always recognize in his approach and it infused the project from the beginning with a sense of 'sentiment de lumiere' – a 'feeling' for the light."
Coles added: "Within our Little Birds world, we liked to embrace the idea of going on a journey of colour – as the hedonism and intoxication of life intensifies through the episodes, so does the colour contrast and saturation. Skies were treated and enhanced and sometimes given strips of colour just to enhance our strange, exciting and unique world."
"The raw format gave me lots of scope to really push colours to incredible levels. And with very little filtration used in camera, Ed gave me the chance to add lots of texture, depth and diffusion as part of the grading process. Grades, vignettes and selective defocus were also used to accentuate our look. I am looking forward to pushing the look further in the HDR grade."
Meanwhile, with the VFX, one of the most difficult sequences came in the finale, explains VFX creative director Brown: "Ed and I had many brainstorms about how to achieve the crane shot that establishes the ship after its arrival in Tangiers – whether it should be a drone or crane and what the pros and cons of each were. We provided both previs and techvis to help make our decisions and inform the team. We also had many creative chats about both the lighting and the look of the finale in Episode 6. I remember being in Dan's Baselight suite with both Dan and Ed getting completely carried away – with the pair of them developing this surreal yet stunning look that Director Stacie Passon was after."
Despite this, it was one of his favourite scenes to work on: "My favourite VFX sequence is the finale where the girls walk out of the farmhouse at the end of episode six, walk up through the vineyard to take stock and put to rest a few issues. Stacie and Ruth wanted this to be heightened and epic. I think the look we achieved with Dan and Ed meets that brief and without giving away spoilers, I'm really pleased with the more obvious VFX implemented across this scene utilising our very talented Houdini and Nuke team."
Not only did they work on the visual aspect of the production, but sound mixers Bull and Straker collaborated with executive producers McCance and Carlton and producers Karl Liegis and Michelle Camp.
"The vision was for the Tangier soundscape to be rich and lush with definite moments of near-silence to underpin tension," Straker explained. "Atmos gives us incredible flexibility when creating the soundscape. It means that we're able to place sounds very deliberately in the listening environment, which mirrors much closer how we experience sound in the real world. As well as the extra surround speaker fidelity, we now have ceiling channels, which adds another dimension to the sonic world, enveloping the listener even further into the story."
This was all made possible during the lockdown measures with help from TechStream, an iOS app that allows colour, sound, and VFX review sessions to be completed remotely.
Little Birds is set to be released on 4 August.