Vine FX delivered 890 VFX shots for eight-part series
Vine FX has revealed the work behind its 890 VFX shots for The Lazarus Project.
Directed by Marco Kreuzpaintner, Akaash Meeda and Laura Scrivano, the eight-part Urban Myth production stars Paapa Essiedu, Caroline Quentin and Tom Burke and is written by Joe Barton (Girl/Haji). The series follows George (Paapa Essiedu), a man who wakes up reliving a day from his past but with some exceptions - his success at work and his marriage to the love of his life seems to have never happened. Convinced that he has lost his mind, George is then recruited into a mysterious organisation called the Lazarus Project. It is now available on NOW and Sky Max.
Vine FX was sole vendor on the project, with founder Michael Illingworth supervising the visual effects. The work involved transforming locations and studio sets into Eastern European rooftops, Parisian streets, views of Shanghai, Beirut, and full CG environments, as well as collisions between the characters that surrounded by driving shots filmed in-studio, topped with immersive sci-fi and explosions.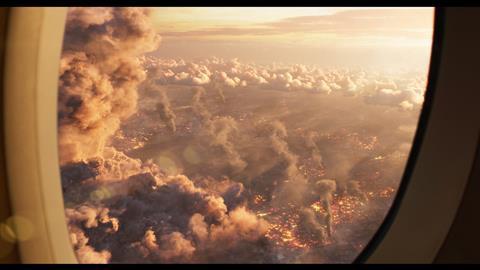 It is just the latest collaboration between Vine FX and Urban Myth, with their relationship also including all seasons of War Of The Worlds.
One of the biggest transformations was a car chase sequence in episode one. All filming took place in the Czech Republic and required substantial enhancements in order to transport the viewer to a visualisation of Paris with Parisian architecture. The episode featured over 100 VFX shots ranging from fast-action motorcycles, police cars, vans, driving shootouts and crashing cars.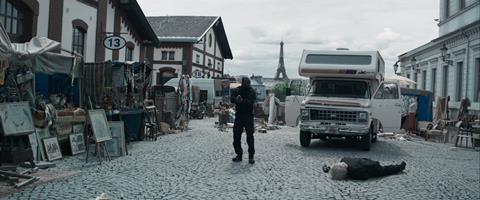 Pedrom Dadgostar, head of 3D at Vine FX said: "With camera crews and crashing cars on every corner, this was not a simple task! The team pre-agreed on the best architectural solutions for building placements before sending an onset photographer to source elements of iconic Parisian streets. Highly detailed CG assets were then sculpted, including the recognizable Haussmann buildings, city landmarks and central European foliage."
A major element throughout the storytelling were the nuclear explosions in a multitude of locations. Each time there is an apocalypse, the Lazarus team turns back time by making a phone call, returning everyone back to the checkpoint. The team created atomic mushroom clouds, blast waves and compression rings with heavy smoke clouds and ground fires to destroy the cityscapes built up in 3D. As the shots were built mostly in 3D space, this allowed the team to depict the epicentre of destruction around the central city points and focus on key buildings, landscapes for maximum impact.