Yorkshire and Humber-based TV and film production houses can apply to the free-to-attend training programme now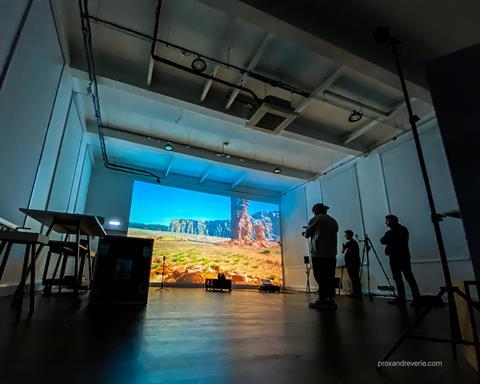 Yorkshire and Humber-based TV and film production houses are being offered free training on all aspects of virtual production.
Companies eligible to apply need to have a TV or film project at development or early pre-production stage and be looking to learn about how virtual production can be utilised on their production.
The 'Remote Control' virtual production programme has been designed and produced by virtual production specialist Prox & Reverie, The Screen Industries Growth Network (SIGN) and Screen Yorkshire. 'Remote Control' is fully funded through SIGN.
It will be delivered through a series of remote collaboration and visualisation sessions and hands-on workshops at Prox & Reverie's immersive studio The Forge in Doncaster.
Three successful indies will be chosen for the scheme. Prox & Reverie and SIGN will guide them through immersive world building; interactive real-time game engines for screen; performance capture; volumetric Video; and virtual camera techniques.
Virtual Production is quickly becoming an established way of working at all stages of production – developing new projects, pre-production and on set – to expand creative vision, and provide time and cost savings.
Applications for 'Remote Control' are open until 15 March 2022. TV and film production companies interested in applying should visit Screen Yorkshire's website to read the full guidelines and to submit an application. Shortlisted companies will be interviewed on 21 March via zoom.
Duncan Petrie, director, SIGN, says: "It's vital that Yorkshire and Humber remain at the cutting edge of advancements in virtual production technology and techniques to ensure that we continue to be an attractive centre for new developments in screen production. Remote Control will allow companies to directly benefit from industry expertise to advance their knowledge of these innovative and rapidly evolving new technologies for content creation. It's a pleasure for SIGN to be partnering with both Prox & Reverie and Screen Yorkshire on this exciting scheme which will help foster new knowledge and grow talent in this area of work.''
Martin Taylor, creative director and co-founder, Prox and Reverie, adds: "Working with SIGN and Screen Yorkshire on the virtual production for film and TV development program and sharing our learnings and experience with companies across the Yorkshire and Humber region is very exciting. We look forward to playing a role in this pivotal industry project and to help raise critical understanding of the creative and commercial value of virtual production from concept to screen."
Caroline Cooper Charles, chief executive, Screen Yorkshire said: "'Remote Control' offers TV and film production companies in Yorkshire & Humber a fantastic opportunity to get a step ahead in virtual production, guided by immersive media experts Prox & Reverie. Our region's screen sector is going from strength to strength and support from the Screen Industries Growth Network for 'Remote Control' will help Yorkshire & Humber's vibrant TV and film industry benefit from exciting new market opportunities. We can't wait to see the results."