The ambitious project comes shortly after the Doncaster-based facility opened an experimental studio called The Forge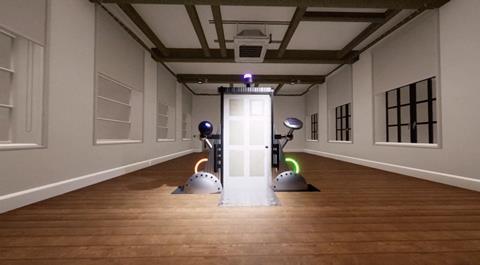 Doncaster's 'multi-reality experience company' Prox & Reverie is developing an ambitious project called Interchange that will enable audiences to step through physical doorways into imagined story worlds and real-life events. It is working with Warner Bros on Interchange, to create lifelike characters and live interactive motion-captured avatars of fictional and real characters to stream to multiple users and locations simultaneously in lifelike, photo-real environments.
The idea is for the Interchange doorway to be installed in public places during WarnerMedia launch events, such as sports venues, education centres, libraries and shopping malls near WarnerMedia stores across the globe.
Andrew Chitty, Professor Andrew Chitty, Challenge Director, UKRI, said: "Prox & Reverie's upcoming partnership with Warner Bros is testament to the truly groundbreaking mixed-reality work going on in Doncaster and the wider XR Stories cluster across Yorkshire. It is evidence that our Creative Clusters approach is working by bringing together entrepreneurial CreaTech businesses with researchers and major industry players and catalysing innovation through targeted support and investment."
Alistair Maclean-Clark, CEO and Founder, Prox and Reverie, added: "Developing Prox & Reverie in central Doncaster, alongside partner companies in media skills training, VFX, virtual production and games, is set to establish a World leading creative digital sector in South Yorkshire."
The Forge
Earlier this year, Prox & Reverie opened a new experimental studio called The Forge, which blends cinema, digital and virtual reality storytelling. The company says the unveiling of The Forge is the first step in building the studio of the future in Doncaster, which will combine sound stages with virtual production stages.
The Forge has a 2000 sq ft free roam stage and can generate motion capture-driven avatars and explorable virtual universes that "quickly merge digital and real-world realities", says Prox & Reverie.
Martin Taylor, co-founder and director, Prox & Reverie, said: "We are more than just a virtual production studio – our emphasis in The Forge is to empower content makers to explore and test their XR content ideas quickly and then push the boundaries of what's possible because The Forge exists as a new kind of production canvas. The goal is to point every leading XR tool and technique into a single modular volume and have it move and adapt to the user's imagination. Inside The Forge, you can experiment, create, prototype, simulate, build and deliver any kind of immersive audience experiences".
Maclean-Clark added: "The entertainment industry has seen an explosion in the use of virtual production techniques over the past year, with a specific focus on the use of LED walls for set extension and real-time CGI. Prox & Reverie was launched to level up the immersive aspects of mixed reality by tapping into the full potential of XR technology, providing truly interactive experiences that allow creators to create and viewers to step into and experience photorealistic fictional realities".