Facilities make two new appointments and an internal promotion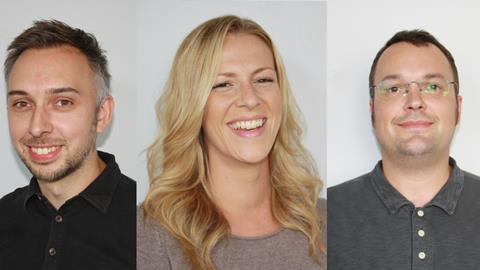 Sister West London post houses Rapid Pictures and Radiant Post Production have made three senior appointments.
The companies have recruited David Swanson (pictured left) as senior post producer and Anna Prickett (pictured middle) as post producer. Swanson joins from Freemantle Media's in-house facility, while Prickett joins from Splice.
Rapid and Radiant have also promoted Andy Briers (pictured right) to head of post production for both post houses. He was part of the original team at Crow TV and will oversee all projects and the bookings teams across both sites.
Prickett said: "Radiant has such a great reputation within the industry and have just won Broadcast's Best Places to Work In TV."
Swanson adds: "I've been working within an in-house facility for years so am really happy to bring my skills to Radiant."
Joint managing director of Rapid and Radiant, Ben Plumb, said: "We're delighted to have two such senior and respected post producers join our companies. They both bring so many years experience and knowledge and are the perfect fit with our current team."