The two-day trade show at Olympia London next month (11-12 May 2022) includes dedicated audio stage and over 25 audio exhibitors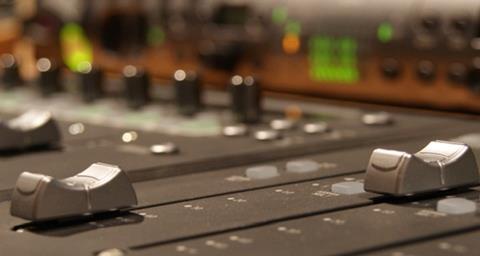 The Media Production and Technology Show at Olympia London on 11-12 May 2022 will host two days of free-to-attend seminars focused on audio.
The show is run by Broadcast Tech's parent company MBI, and is the UK's biggest annual event for the television production sector. It's both an exhibition and conference covering all genres of TV and all aspects of production (pre-production, production, virtual production, post and distribution).
MPTS 2022 features keynote sessions from Louis Theroux and Adam Deacon, and an audience of more than 7,000 are expected to attend the show over the two days.
The audio sessions are accompanied by over 25 audio exhibitors, covering post-production audio, hardware and software, microphones for live studio, live events, theatres, production and live broadcast, audio technical solutions and much more.
The audio stage will feature discussions on ADR, Advanced Dialogue Mixing, Sound Restoration, Film Composition Masterclass, TV Music Composition, Podcasting, Location Sound, and more.
The full Audio Theatre seminar programme at MPTS 2022 is:
DAY 1 (Wednesday 11 May 2022)
Film Composition Masterclass (35 minutes)
Chair
Ben Baldwin, Director - Chuffed Productions
Speakers
Nainita Desai, Composer,
Daisy Coole, Composer
Learn from this panel of the best Film composers in the UK.
Future of Audio/Next Generation Audio 101 (20 minutes)
Speaker
Emma Young , R&D Engineer - BBC R&D
What' is NGA? What is it, what does it do for the audience and what are the creative benefits? What are the key technology enablers? What's the ambition for NGA, and how is it going to impact production workflows. What does it mean for me as a sound supervisor on a studio programme? What changes do programme engineers have to make to deliver on creative ambitions
Agents Talk Talent (30 minutes)
Speakers
Glenn Miller, Head of Podcasts & Partnerships - CAA
Alex Bewley, Agent - WME
Alex Bewley (WME) and Glenn Miller (CAA) talk about how they are maximising opportunities for their talent across TV, Film and now Podcasts and Live shows. Talent really is holding the power at the moment and how the right idea with the right talent can mean huge opportunity.
It ain't what you use it's the way that you use it. That's what gets results (30 minutes)
Speaker
Simon Clark, Chair - Institute of Professional Sound
Every genre needs great on-set sound for smooth and on-budget production. Experts offer insight into how to get it.
Advanced Dialogue Mixing (30 minutes)
Speakers
Kate Davis, Head of Sound - Directors Cut
Sylwia Kopys, Product Specialist - Izotope
Learn the latest techniques in dialogue mixing with the Head of Sound at Directors Cut Films, Kate Davis and iZotope Product Specialist, Sylwia Kopys. Attendees will see the latest audio tools in action along with helpful tips and tricks for how to get the most out of their mix.
Sound and the Post-Production Supervisor (35 minutes)
Speaker
Gemma Nicholson, Founder - Post-Super
Who is the PPS, and how can we help each other?
Anatomy of an Award Winning Soundtrack (30 minutes)
Speaker
Andrew Wilson, Chair - Association of Motion Picture Sound (AMPS)
With awards season finished for the year, what are the judges looking for in a winning soundtrack?
DAY 2 (Thursday 12 May 2022)
Keynote: Feel The Need, the Need for Sound (35 minutes)
Chair
Ben Nemes, Industry Consultant & Founder of SpaceCrate
Speaker
Chris Burdon, Re-Recoring Mixer - Warner Bros. De Lane Lea
A conversation with Re-Recording Mixer Chris Burdon, on his career and the upcoming release of Top Gun: Maverick.
TV Music Composition Masterclass (45 minutes)
Chair
Ben Baldwin, Director - Chuffed Productions
Speakers
David Lowe, Music Composer/Arranger/Producer
Benji Merrison, Composer
Nainita Desai, Composer
This leading panel of tv theme and music composers will share insights on their careers so far, delve into the details of their biggest 'hits' and give tips and advice to budding music composers.
Believing in London and Dolby Atmos (30 minutes)
Chair
John Johnson, CTO - HHB
Speakers
Darren Woolfson, Director of Technology - Molinare
Helen Miles, Re-Recording Mixer - Molinare
Dave Tyler, EMEA Audio Pre-Sales Manager - Avid
James Doyle, Head of Audio - Molinare
Moderated by HHB CTO John Johnson, HHB Communications and Molinare will take attendees on their journey in creating one of the most cutting-edge rooms for sound mixing in the UK.
Joined by Molinare's Director of Technology, Darren Woolfson and the company's Head of Audio, James Doyle, Re-Recording Mixer Helen Miles, and Dave Tyler from Avid the session will delve into the growing demand for Atmos and the heightened expectations post production facilities are facing today as a result of the high-end TV and Feature Film boom the industry is currently experiencing. The panel will demonstrate how Molinare has answered the demands to remain agile and collaborative, following two years of significant investment and the deployment of the latest technologies, ensuring the facility is a destination for any Director or Sound Mixer coming to the UK.
Voice in the Mix (30 minutes)
Chair
Laurence Glover, Producer - Glover Films Ltd
Speakers
Posy Brewer, Voiceover Artist
Jacky Davis, Director of Kidztalk Ltd, Actor, Voice Over - Kidztalk Ltd
Working with a professional voiceover helps Producers and clients know how to get the best out of the voice for their production. By understanding the voice over and the skill they have, along with being able to brief them when in a session, it can save time and effort on all sides. This panel will give you the best advice to work with a VO to make sure everyone feels confident going into the studio to record.