News organisation utilises text-to-speech and image recognition to speed up archive searches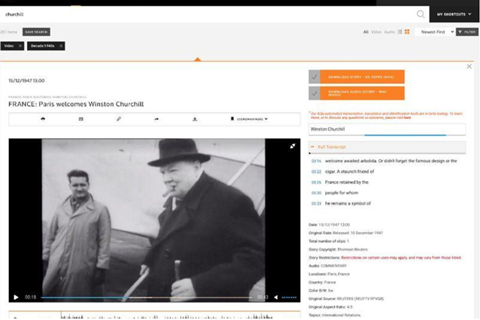 Reuters has applied artificial intelligence (AI) to around one million news clips from the Reuters Video Archive, dating back to 1896 and covering some of the most momentous events in history.
The organisation, with support from Google Digital News Innovation (DNI) Fund, used AI to enable the automated logging of its huge archive.
Reuters utilised AI and machine learning capabilities to extract vast amounts of data from video.
The process means users of the Reuters Connect service can access timecode-accurate speech-to-text transcripts (in 11 languages) of historically important videos, including the Wright brothers first flight in 1903 and major moments of World War II.
The data gathered by the AI also means public figures can be easily found in the video archives, enabling users to quickly navigate to the sections of moving images they are searching for.
Sue Brooks, managing director of product development and agency strategy, said: "By applying AI technology to more than 100 years of archive video, we can offer customers around the world a vastly enhanced experience. This innovation means users of Reuters Connect can discover the exact moments that matter in history—from Lenin to Trump, WWI to 9/11, Sarajevo to Gaza and so much more."