The gender diversity group has matched 49 mentees to industry leaders for the six-month mentorship programme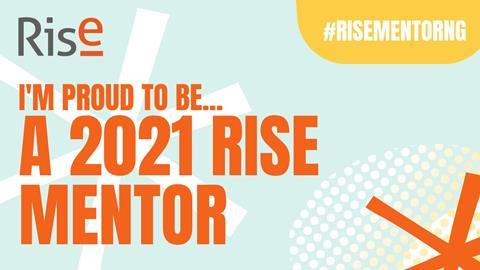 Gender diversity group Rise has announced the pairing up of mentees and mentors for its fourth annual mentoring scheme in the UK. The scheme is also running for the second year in APAC, and this year additionally launches in North America.
The mentoring programme matches experienced broadcast technology media sector industry leaders to 49 female mentees, to offer expertise, knowledge and guidance.
Each pairing provides 12 hours of one-to-one time with the mentor and mentee; the opportunity to meet the mentee group on a monthly basis; as well as networking events, workshops, and seminars throughout the six-month programme.
Rise received more than 130 applications from potential mentees for this year's programme.
Carrie Wootten, managing director of Rise, said: "We are very excited to announce the 2021 mentor and mentee pairings for all three regions, especially those in North America for the first time. We know that the support provided through the programme is needed now more than ever and we are proud to be supporting 49 women in the broadcast media and technology industry."
UK Mentor and Mentees Pairings:
• Belen Arronte, Head of Media Solutions Marketing, Sony will mentor Ellis Bezant, Market Analyst, Pebble
• Paula Bargary, Sales Director EMEA, Vizrt will mentor Sarah Collis, Senior Digital Media Technician, Pixelogic Media
• Anne-Louise Buick, VP Revenue Marketing, Avid, will mentor Izabella Koukorava, Head of Product, Sky
• Allison Coucher, Service Strategy Manager, Sky will mentor Annie Walker, HR Advisor, Gravity Media
• Dee Davidson, Business Operations Director, Deluxe will mentor Taryn McDonnell, Production Manager, Timeline TV
• Caroline Ewerton, VP Production Services, DAZN will mentor Fernanda Longo, Project Manager, Red Bee Media
• Nicki Fisher, Sales Director EMEA, Clear-Com will mentor Sophie Lambert, Sound Assistant, Telegenic
• Lorna Garrett, Managing Director, Zest Technologies will mentor Kerri Brown, Senior Manager, R&D - Playout, Grass Valley
• Sadie Groom, Managing Director, Bubble Agency will mentor Barbara Rosseel, Strategic Marketing Lead, Sony Professional
• Paola Hobson, Managing Director, InSync Technology Ltd will mentor Neha Shah, Lead QA Engineer, STARZPLAY
• Jackie Howes, Director Media Infrastructure Architect, Discovery Inc will mentor Mirusha Jegatheeswaran, Content Technology Support Engineer, ITV
• Abigail Hughes, VP Growth EMEA, Premiere Digital will mentor Tereza Klucka, Senior Content Services and Mastering Specialist, Pixelogic Media
• Marina Kalkanis, Senior Technology Executive, M2A Media will mentor Christina Nowak, Consultant of Business Development & Marketing, New Chapter Production Ltd
• Lisa Lavender, Operations Director, British Arrows will mentor Juliette Beahan, Sales Operations Co-ordinator, BBC Studios
• Anna Lockwood, Head of Global Sales, Telstra Broadcast Services will mentor Amaka Akpata, Sales Delivery Manager, Freelance
• Kerry Shreeves, Vice President of Technology Operations, Discovery Inc will mentor Phoebe Swaby, Product Manager, BT Media & Broadcast
• Stephen Stewart, COO, Take 1 Script Services will mentor Kathryn Savage, Live Transmission Operator, Discovery Inc
• Seema Talwar, SVP International Operations, 20th Century Fox will mentor Hayley O'Toole, Live Capture Supervisor, ITV
• Cat Tate, Business Development Director, Freelance will mentor Charlotte Bell, Operations Manager, Timeline Television North
• Dushi Thangarajah, SVP Localisation, Fulfilment & PMO, Deluxe will mentor Niki Whittle, Global Graphics Operations Manager, DAZN
• Ian Wagdin, Senior Tech Transfer Manager, BBC R&D will mentor Esme Racey, Junior Broadcast Assistant, Cloudbass Ltd
• Helen Weedon, Owner & Senior Account Director, Radical Moves PR will mentor Alexia El Merhebi, Digital Communications & Events Executive, Calrec
• Richard Welsh, SVP Innovation, Deluxe will mentor Nancy Wu, Multimedia Producer, Dove Media Ltd
• Kate Wendelboe, Head of Strategy, BT will mentor Anjla Pankhania, Account Management Executive, BBC Studios
• Deborah Williamson, Engineer Director - Global Playout Technology, Discovery Inc will mentor Amber Holbrook, Broadcast Engineer, QVC
APAC Mentor and Mentees Pairings:
• Sharifah Ahmed, CMO, Torque Video Systems will mentor Chika Nemoto, Order Management Specialist, Grass Valley Japan, Tokyo
• Marc Bruce, Managing Director, Encompass Digital Media will mentor Azrina Jane Abdullah, Territory Manager Malaysia, Vizrt
• Peter Bruce, Business Development, Elevate Broadcast Pte Ltd will mentor Sheila Chong, Senior Support Specialist, Grass Valley Singapore Pte Ltd
• Mark Cooke, Sales Director, Ross Video Singapore Pte Ltd will mentor Catherine van Raemdonck, Account Director, Brightcove Singapore
• Nancy Diaz Curiel, Managing Director, Digigram Asia Pte Ltd will mentor Karen Siaw, Inside Sales Executive, Ross Video Singapore Pte Ltd
• Shad Hashmi, Principal Consultant, Three Media will mentor Vivian Yu, Regional Marketing Manager, Ross Video Singapore Pte Ltd
• Divya Jain, Senior Broadcast Engineer, Benchmark Broadcast Systems India will mentor Rupali Sarkar, Senior Sales Executive, ARK Infosolutions Pvt Ltd
• Leena Singarajah, Executive VP, StratGuy will mentor Sing Yee Lee, Senior Solution Architect, Grass Valley Singapore Pte Ltd
• Melissa Soobratty, Senior Media Director, World Table Tennis (WTT) will mentor Mia Tan, Inside Sales Representative, Ross Video Singapore Pte Ltd
• Pip Warren, Media Asset Management Professional Services Manager, AVID Australia will mentor Olivia Grimshaw, Customer Success Manager, Grass Valley, Sydney
North America Mentor and Mentees Pairings:
• Vanesa Andrés, Technical Sales Rep, CAST Group will mentor Julie Sakes, Supervising Account Manager, Deluxe Distribution
• Rachel Archibald, Director of Marketing, Clear-Com will mentor Amanda Holtstrom, Product Manager, Ross Video
• Jesse Averna, Editor, Dreamworks will mentor Elizabeth Guenther, Account Director, Deluxe Media
• Barbara DeHart, Director of Alliances, Grass Valley will mentor Jordan Linekar, Data i/o Technician, Deluxe Media
• John Harris, NA Sales Manager, Cambridge Research Systems will mentor Bec Simpson, Business Development Executive, Take 1
• Jade Kurian, President, Latakoo will mentor Leah Morris, Account Director, Deluxe Media
• Anna Lee, CEO, Deluxe will mentor Dawn Lannon, Senior Buyer, Grass Valley
• Kathy Ann McManus, Chief Customer Experience Officer (CCXO) & SVP, Global Customer Solutions and Services, Avid will mentor Meg Travis, Director, Global of Head of Marketing, Iron Mountain Entertainment Services
• Stephane Menard, VP Engineering, Clear-Com will mentor Demi Milas, Production Co-ordinator, Deluxe Media
• Jill Prubovic, Owner, Jill Porubovic Consulting will mentor Carole Pelletier, QMS,EHS and Quality Supplier Manager, Grass Valley
• Meghan Ross, Senior Global Technology Manager, Brightcove will mentor Deanna Lee, Senior Account Manager, Deluxe Entertainment
• Kathy Skinski, General Manager, Broadcast & Media, Leyard will mentor Remington Maxwell, Senior Software Engineer, Grass Valley
• Louise Tapia, CEO, Take 1 will mentor Priscilla Oliveira, Technical Operations / Post & Distribution, Premiere Digital Services
• Lena Wasikowski, SVP, Global Account & Business Development, Deluxe will mentor Allison Martin, Senior Manager of Content Planning, Global Operations, BBC Studios