New TV studios offer flexible spaces and state-of-the-art technology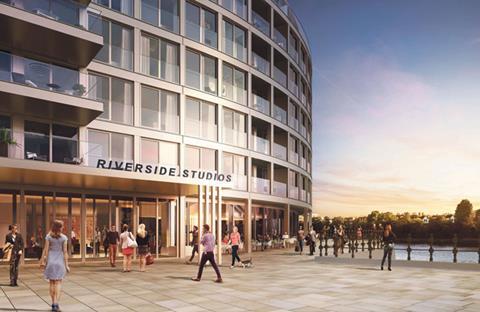 Riverside TV Studios has started taking bookings ahead of its long-awaited reopening in August.
The studios are part of the wider Riverside Studios arts, theatre and entertainment complex, which closed for redevelopment in 2014, and were previously home to shows such as Celebrity Juice, Russell Howard's Good News, The Last Leg and Never Mind The Buzzcocks.
The reopening of the studios in Hammersmith will relieve some of the pressure on demand for space in London following the closure of Fountain Studios and ITV's The London Studios.
Riverside already has some bookings confirmed for October and others pencilled in for September. "There's been a lot of interest in the new studios because of a lack of space in central London," said commercial director Bobbi Blackman.
Riverside's main offer for the TV industry is Studio 1, a 6,500 sq ft space that will be equipped with new HD and UHD facilities.
Suitable for panel shows, music productions, chat shows and light entertainment, Studio 1 can transmit live to the BT tower and has seating for 368 people. Additional floor seating can increase its audience capacity to 468.
Its facilities include a production office for a team of 12, dressing rooms, wardrobe and make-up rooms, a green room and a workshop for art department use.
Riverside also has two other mixed-use studios. Studio 2 is a 5,077 sq ft black-box space in which stage and seating can be reconfigured for TV shows, theatre and music events.
The studio will have access to dedicated production/lighting and sound galleries when used for TV production or live events. It has a capacity of 400.
Studio 3 is smaller (1,800 sq ft) and is mainly used for theatre, although it is also connected to the galleries. It has an audience capacity of 180 and is suitable for smaller-scale TV productions, as well as stand-up comedy, music gigs, product launches, talks and presentations.
The studios are run by Riverside TV, a commercial company that is leasing the facility from the Riverside Trust.
Blackman and technical director Duncan Stewart both worked at Riverside Studios prior to its closure, while operational manager Ginge Ames has joined from The London Studios. The systems integrator and equipment supply contract is with ES Broadcast.
Stage Electrics has won a £2m contract to supply and install specialist production lighting and audio-visual infrastructure.
Elsewhere in the Riverside Studios complex is a 190-seat cinema, a screening room for 40, a rehearsal space, cafés, a bar and a restaurant. There is office space available for tenancy.