Accedo shows off its cycling/road race Augmented Reality demo at NAB 2018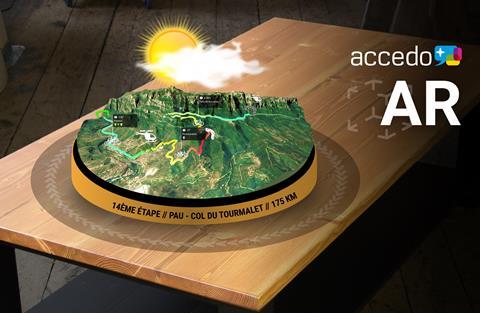 Video experience company Accedo demoed a great example of how Augmented Reality (AR) could be used as a second-screen viewing experience to enhance sports broadcasts at NAB 2018.
It's created a second-screen proof of concept that could work for cycle races such as the Tour de France or motor sports including the Formula One Grand Prix. The proof of concept shows a 3D render of the mountainous terrain of a cycle course, the live position of the different riders and the option to see the helicopter view from various points across the course.
You can easily move around the course, and hover over individual riders to see some stats about their performance and position in the race.
It's straightforward to use, genuinely adds value to the viewing experience and shows the way forward for how to apply AR to enhance viewer engagement.
You can view the AR experience below.