The room has been added to meet demand from clients returning to facility-based working, post-lockdown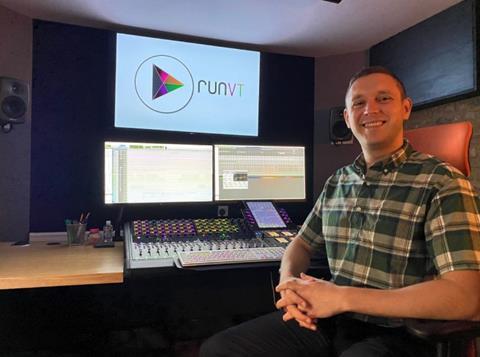 RunVT has added a second mixing suite, working with HHB Communications to create a 'future-proof' 5.1 room.
The company said it has witnessed increased demand from clients wanting to return to facility-based work and has invested in creating the additional audio suite to meet this demand.
RunVT dubbing mixer Thaddaios Yianni (pictured above) spearheaded the project, working closely with Steve Jones at HHB to ensure the room would be expandable and able to match the facility's existing mixing suite.
Audio Schemes owner Nick Langley designed and built the studio, which will be used interchangeably with RunVT's other audio room.
The room is equipped with five Genelec 8330A speakers and a 7360A subwoofer and is built around an Avid S4 control surface.
Happy Chhokar, director of operations and business development at RunVT, said: "We wanted to get a suite built to best meet the needs of our clients and make the lives of our team easier."
Yianni adds: "The S4 fit our needs from functionality to the size for our room. We had to get to work mixing with it immediately and have been busy on it since. It's been a dream – super intuitive and already speeding our workflow, everything in Pro Tools just seems right at my fingertips."
Jones said: "It was a pleasure working with Happy, Thad and the rest of the RunVT team on this project. The kit they chose is perfect for the space and sets them up for years to come."