Media Production Show 2018 offers a rare opportunity to see Sharp's unique 8K camcorder and 8K TV combination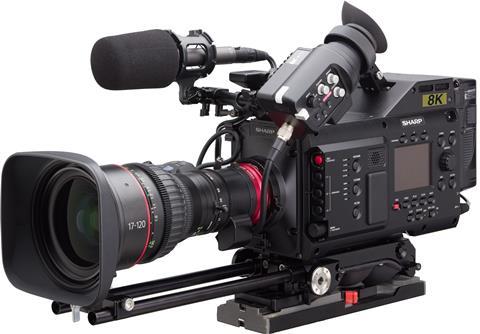 Sharp is using the Media Production Show 2018 to showcase its industry-first combination of a professional 8K camcorder and 8K HDR display.
It will demonstrate 8K images being captured on its 8C-B60A 8K camcorder (pictured above) on the showroom floor and played back live on its 70-inch 8K monitor, the LV-70X500E (pictured below).
Sharp's 8K camcorder, which will be available in Europe later this year, is its first entry into broadcast equipment, while its 8K display is the only commercially available 8K display on the market.
The 8C-B60A 8K camcorder is built around a large, Super 35mm-equivalent CMOS image sensor with 33 million pixels. It captures 8K 60p images and can record up to 40 minutes of continuous content using the supplied 2TB SSD pack.
It can also output 8K uncompressed images at the same time as recording is taking place, allowing it to be used for transmitting live 8K images, as will be demonstrated at MPS.
Sharp Visual Solutions managing director Sid Stanley said: "As a global company, we're helping to create the conditions for 8K TV to develop and grow, because we believe in the power of this level of detail to change the world."
Sharp will be exhibiting on stand 413 at MPS.
You can register to attend Media Production Show 2018 for free by clicking here.