Sky Creative Agency team up with Goodby Silverstein & Partners on high-end TV spot for Sky and Comcast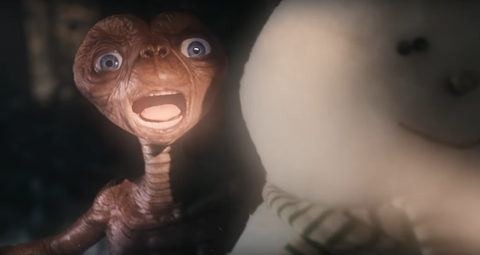 Sky and Comcast have created a joint US/UK TV campaign that centres on ET and his friend Elliott. The spot was originally developed for Comcast by LA-based creative agency Goodby Silverstein & Partners and transitioned into a collaboration with Sky's in-house agency Sky Creative Agency.
Creatives from Sky Creative Agnecy flew out to the shoot in Canada to assist with the creation of the advert, which sees the original actor who played Elliott (Henry Thomas) now grown up and with his own family. His children find ET in the garden where he's reunited with Elliott and they catch up on some of the key tech changes that have happened in the last 30+ years. ET then heads off back home once more.
The two-minute spot debuted last night on Sky.
Sky Creative Agency executive creative director, advertising, Robin Garton, told Broadcast: "This is the first time we have put TV, broadband and mobile in the same ad. The challenge is to produce advertising that people want to watch – with ET we've done exactly that. This is the first example of Sky and Comcast producing advertising together. Given the conversations we've been having, I expect more of that will follow."
Key facts
First time that Comcast and Sky have collaborated on a creative campaign
Fully transatlantic ad launching simultaneously in both the US and UK
US is Comcast branded pushing its Xfinity broadband product
UK is Sky branded pushing Sky Mobile, Broadband and Q
Sky Creative Agency flew a team out to Canada to advise on the shoot – predominantly with the script treatment
Credits
Client
SVP, Brand Marketing & Communications: Peter Intermaggio
SVP, Brand Marketing: Todd Arata
Vice President, Brand Marketing: Dustin Hayes
Senior Director, Brand and Experiential Marketing: Rose Holden
Senior Manager, Brand Marketing: Kristen Smith
Creative
Co-Chairmen: Jeff Goodby and Rich Silverstein
Chief Creative Officer: Margaret Johnson
Executive Creative Director: Jim Elliott
Creative Directors: Tristan Graham, Felipe Lima,Roger Baran
Associate Creative Director: Ricardo Uribe, Eduardo Quadra
Art Director: Jennifer Fisher, Hans Schenck
Copywriter: Anthony Pagaza
Sky Creative Agency
Executive Creative Director: Robin Garton
Senior Producer: Ciaran Bennett
Account Manager: Chloe Kitter