The kit will be sent out to longform freelance editors working on Sky content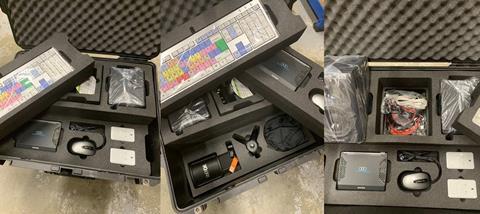 Sky Production Services (SPS) has launched a bespoke remote editing kit for freelance editors. The company, which runs facilities and operations including the studios and post-production services for many Sky productions, will deliver the kit to longform freelance editors working on Sky content.
During the first lockdown, SPS distributed laptops to editors. It says this new 'kit of parts' represents "the next stage of SPS' plan to enable freelance editors to continue working safely and remotely."
The kit will make it possible for editors to achieve the same experience and consistency of work as working on site in one of SPS' edit suites. It standardises the tech different editors use, helping the SPS support team reduce the amount of time they spend troubleshooting a wide variety of individual home kits and setups.
The kit also enables SPS to pre-calibrate monitors and desktops to ensure consistency across the pool of freelancer home setups.
Each 'zero client' remote editing kit includes:
x2 iiyama ProLite monitors (1920x1080)
Avid Keyboard
USB Mouse
M-Audio AV42 Speakers
Mack Big Knob Passive Speaker Controller
Beyer DT 240 PRO Mobile Studio Headphones
Amulet Hotkey Dual Screen Zero Client, plus all the required cables.
Adam Downey, director of post production and partnerships at Sky Production Services, said: "Like everyone, we have been working remotely for a while and though this is a small step, it is an important one that recognises that remote working will be here beyond Covid-19. It is great to have this extra kit in our arsenal to support freelancers and producers who have been getting by with just a laptop, to make it a richer experience."