Sky Sports Studios refreshes lighting set up in its West London studio facilities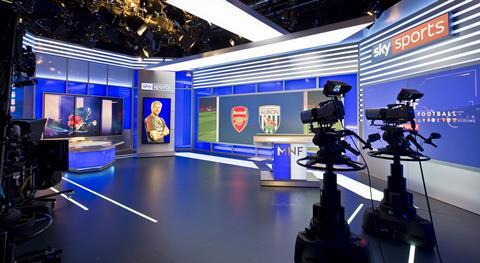 Sky Sports Studios has kitted out its studio spaces with LED Creative's Alpha 60 LED flex, as part of an upgrade to its TV studios in its West London HQ.
The flexible strips of LED lighting, supplied in 5m rolls, have been used extensively throughout Sky Sports Studios One, Two and Three, with the set up "easily adapted to a suit a broad variety of moods," according to LED Creative.
The largest studio, Studio One (pictured above), is used for Sky's football coverage, the green themed Studio Two (pictured below) is used by Sky golf and Studio Three is a multi-purpose interview and featured sport space.
The Alpha 60 LED flex is low energy, drawing 14.4W per metre, and, according to LED Creative, provides Sky with the ability to have "discreet, seamless transitions in both colour and intensity" in the studio lighting.
LED Creative's project manager Ges Smith said: "Our Alpha 60s add some fantastic detail to the each of the studio sets. It's great to see the system being used in such creative ways, not just to add light and colour, but as a key part of the installation".