NAB 2018: Sony updates the FS5 with the FS5 II and adds another two 4K cameras, the PXW-Z280 and PXW-Z190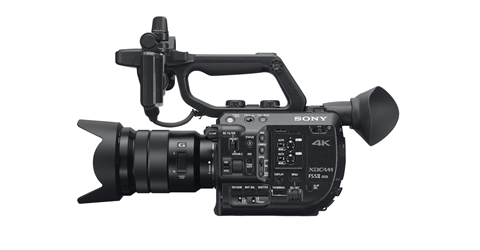 Sony used NAB 2018 to launch three new cameras – the FS5 II (pictured above), an update to its large-format sensor camera FS5, and new 4K models, the PXW-Z280 and PXW-Z190.
The FS5 II has a 4K Super 35 Exmor CMOS sensor, a modular frame and a refined picture tone for natural highlights and what Sony describes as "subtle, alluring and well rendered facial tones".
The updated model also adds 4K HDR and high-frame-rate 120fps shooting as well as RAW capabilities to the Super 35mm camcorder.
"We've evolved and developed our hugely popular FS5"

Claus Pfeifer
It can capture four seconds of 120fps in 4K and continuous 240fps in 2K RAW output when used with a compatible external recorder. Continuous 4K 60fps RAW output is also supported.
It can shoot eight seconds of HD 10bit 4:2:2 quality 240fps 10x slo-mo on an internal SD card, or continuous recording of 120fps in HD.
The FS5 II supports Sony's 'Instant HDR Workflow' which it says enables the camera to produce HDR content for "quick post-production without the need of grading." It also captures S-Log 2/3 images, enabling the HDR image to be fine-tuned via colour grading.
The camera's electronic variable ND filter with auto ND function creates a wide range of shallow depth of field controls. It also has 10 picture profile settings that configure the camera for different shooting styles, including cinematic content and online content.
Claus Pfeifer, head of technical sales – Media Solutions, Sony Professional Solutions Europe, said: "We've evolved and developed our hugely popular FS5 and the FS5 II is now a powerful addition to the Large Format Sensor line-up which promises even more flexibility and creative choices."
The FS5 II is available as body-only (PXW-FS5M2) for €4,752 (£4,140) or with a lens kit (PXW-FS5M2K) for €5,256 (£4,580). It will begin shipping across Europe in May.
New 4K models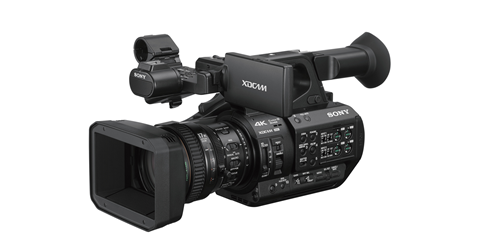 Sony describes the Z280 (pictured above) as its flagship handheld model, while the Z190 is a compact camcorder.
The Z280 has three 1/2-type Exmor R CMOS image sensors and captures 4K 4:2:2 10-bit images with "delicate colour gradation" and a deep depth of field, making it well suited for news gathering, says Sony.
It is also capable of 4K 50p/60p recordings and 12G-SDI output, for live event production. The Z280 has a 17x zoom lens and three control rings for manual control of focus, zoom, and iris.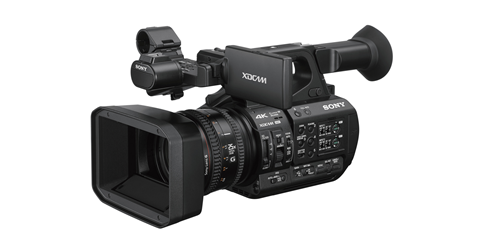 Meanwhile, Sony's Z190 (pictured above) is built around three newly developed 1/3-type Exmor R CMOS image sensors. The company says it delivers 4K 50p/60p imagery with "a wide range of gradation." It captures 4:2:2 10-bit images for "vivid and rich colour content in HD."
The Z190 has a 25x optical zoom lens to and three independent lens rings.
Both the Z280 and Z190 have advanced face detection autofocus, providing 'face priority autofocus' and 'face only autofocus'. An electronic variable ND filter "ensures greater exposure control by smoothly varying the density of the ND filter during shooting while maintaining resolution and depth of field," says Sony.
The Z190 will be available in September, while the Z280 is due in July. The Z280 will cost €6,935 (£6,040) and the Z190 will cost €3,485 (£3,035).