The UK company builds production-ready sound stages from 9,400 to 32,000 sq ft, with a build time of just four months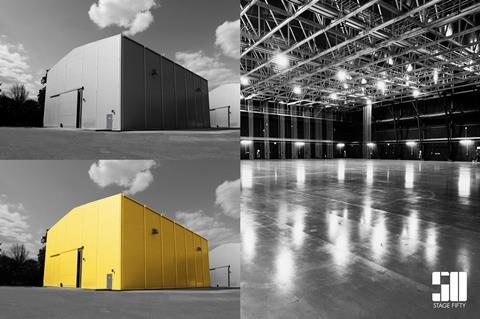 A company called Stage Fifty is developing three UK film studio sites, creating more than 300,000 sq ft of studio space.
Stage Fifty develops production-ready sound stages that can be constructed anywhere in four months. It says the design of its studios "offers the durability of a permanent stage with the flexibility of a movable structure."
The company is collaborating with semi-permanent structure specialist, Spantech on the design and build of the studios, using Spantech's bespoke, modular-designed aluminium system as the base for the sound stages.
The studio sizes created by Stage Fifty range from 9,400 to 32,000 sq ft, with a floor-to-grid height of 10 to 15 metres. The stages are soundproofed, rigged, ventilated, and production-ready.
Stage Fifty CEO, James Enright, said: "Stage Fifty can turn a backlot, an airfield or any piece of suitable land into a sound stage, giving studios and producers the flexibility to film wherever and whenever it's convenient for them. Together with the team at Spantech, we've designed a game-changing solution with the durability of a permanent stage that can be moved and used again and again.
"Two large sound stages have been prototyped, tested and built in the UK as proof of concept. Totalling 30,000 sq ft, the stages are home to an exciting new global series in production for a major streaming service. With three new UK studio sites in the pipeline, and a plan to deliver over 300,000 sq ft in the next 12 months, we're well on the way to achieving our ambition of creating one million sq ft of high-quality and relocatable production space in three years."