The campaign educates composers about the downsides of buyout deals, and aims to set the standards when composers are commissioned by broadcasters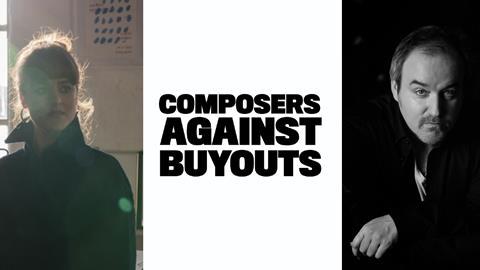 The professional association for music creators, The Ivors Academy and Musicians' Union have launched a new campaign, Composers Against Buyouts, to oppose unethical business practices that damage media composers' rights, earnings and careers.
It is in response to the increasing frequency in which composers for TV, film and advertising are being asked to sell their work for an upfront fee – a buyout – which means they lose out on royalties over time.
The Campaign Against Buyouts aims to raise awareness of the practice among media composers and provide educational support to songwriters at the start of their career, as well as setting standards when composers are commissioned by broadcasters.
The Ivors Academy ran a survey of media composers in 2019 that revealed 70% have worked for free; 64% had seen commissioning fees decrease over the previous two years; and 64% said the commissioning environment is coercive. Additionally, 86% wanted to see more transparency of information around commissioning practices.
Composer Hannah Peel (whose credits include Games of Thrones: The Last Watch), said: "Understanding the business of composing is complicated, with composers on all different types of contracts. It's so important we educate ourselves and each other about what to look out for so we can make a living and sustain our careers."
David Arnold, who has scored five Bond films, added: "Music brings films and programmes to life and creates an emotional connection like nothing else. It may not be visible, but it is truly tangible, and the people that create this amazing music should have their rights protected, not eroded."
Graham Davies, CEO of The Ivors Academy, said: "As a community of composers and songwriters, The Ivors Academy has long opposed buyouts and championed royalties. Our campaign aims to empower and support media composers to successfully negotiate with commissioners and sustain their careers."
Naomi Pohl, deputy general secretary of the MU, said: "It is increasingly difficult for media composers to make a decent living. Commissioning fees should adequately reflect the amount of work involved in writing and producing music for screen and ongoing royalties help to keep composers in the business."
PICTURED: Hannah Peel (credit: Peter Marley) and David Arnold (credit: Julie Edwards)