Outside broadcast investment for facilities giant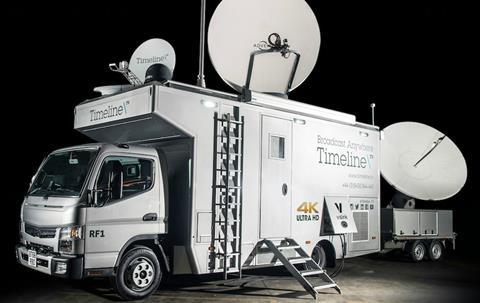 Timeline Television has unveiled plans to build a second 4K UHD RF uplink truck, which will be launched later this year.
The company, which provides outside broadcast, studios and post-production facilities, says it is adding the truck to its fleet to support the increasing demand for 4K work from clients.
It previously launched a 4K uplink truck (pictured) at the end of 2016, which worked on more than 80 projects in its first 12 months, including the huge ratings success Love Island.
Its new 4K uplink truck, called RF2, will be capable of delivering multiple UHD and HD uplinks and is being designed and built by Timeline. The company says "It will incorporate the very best 4K technology from manufacturers across the industry."
It will include a large monitor stack with Dolby sound monitoring and it's being pitched as both a traditional newsgathering uplink vehicle and being flexible enough to even work as a complete outside-broadcast unit.