The heads of many leading facilities and vfx houses are among signatories to letter calling for new Brexit vote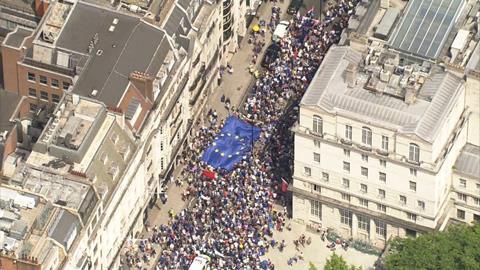 A raft of TV industry leaders have backed calls for a People's Vote following the defeat of the Prime Minister's Brexit deal on Tuesday.
Figures from across the British creative industries are among the 172 business signatories to a letter calling on both main party leaders in Westminster to support the campaign for a vote on the final Brexit deal.
Among the executives to sign are Richard Johnston, CEO of Endemol Shine, Dave Sproxton, exec chair of Aardman Animation and Laura Marshall, managing director of Icon Films.
The heads of many leading facilities and vfx houses have also signed, including Adrian Bull of Cinelab London; Phil Dobree of Jellyfish Pictures; Lucy Ainsworth-Taylor of BlueBolt; Richard Moss of Gorilla TV; Cara Sheppard of Warner Brothers DeLane Lea; and Will Cohen of Milk Visual Effects.
Other high profile signatories include: designer Sir Terence Conran; architects Lord Norman Foster and Sir David Chipperfield; Chris Hirst from advertising giant Havas; and David Shelley, head of book publishers Hachette.
The text of the letter argues many businesses initially backed the PM's deal, despite knowing that is was far from perfect but that now the priority has to be preventing a chaotic crash-out from the EU.
It says: "The only viable way to do this is by asking the people whether they still want to leave the EU. With the clock now ticking rapidly before we are due to quit, politicians must not waste any more time on fantasies. We urge the leadership of both the main parties to support a People's Vote."
Some of the other names from the TV industry to sign include:
Adrian Bull, Cinelab London;
Alan Bishop, Creative Industries Federation;
Brian Cantwell, Soho Editors;
Cara Kotschy, Fifty Fifty Post Production;
Cara Sheppard, Warner Brothers DeLane Lea;
Clare Cooney, Progressive Broadcast Hire;
Dan Weaver, Fudge Animation;
David Montgomery, Local TV Ltd;
Drew Jones, Peerless;
Ed Galton, Cake Entertainment;
Ian Mackinnon, Founding Partner Mackinnon and Saunders;
Kate O'Connor, Animation UK;
Lucy Ainsworth-Taylor, BlueBolt;
Mark Taylor, A Productions;
Milly Ali, Timeline TV;
Neil Hatton, UK Screen Alliance;
Oli Hyatt, Blue Zoo;
Phil Dobree, Jellyfish Pictures;
Richard Moss, Gorilla TV;
Ruth Fielding, Lupus Films;
Sean Costelloe, The Mill;
Will Cohen, Milk Visual Effects