Ahead of IBC, industry experts discuss the major tech developments of the year to date
Senior tech figures have highlighted a raft of developments ahead of this year's IBC, including innovations around IP in live production, remote working and live streaming; the steady rise of artificial intelligence (AI) and machine learning (ML); a sustained drive towards bigger, 'better' pixels and high frame rates; the slower-than-anticipated growth in immersive content; the introduction of large-format cameras and lenses; and seemingly everything everywhere becoming virtualised and cloud-based.
"In sport production, there's no doubt the implementation of IP workflows has been the great success story of 2018," said David Shield, senior vice-president, global director of engineering and technology at IMG.
"Expect to see lots more remote production, again using IP technology, and increasing use of ML to drive remote camera heads and AI to collect metadata for archive and the production of automated highlights."
"There has been a lot of talking up of cloud-based working, but this has now filtered down to a genuine grassroots trend that is fast evolving in VFX workflows" Dave Goodbourn, Milk VFX
Meanwhile, Ooyala's principal industry analyst Jim O'Neill sees AI and ML as the "essential next steps" to enable media businesses to maximise the potential of OTT platforms.
"Metadata enables AI to map out new and undiscovered content, as well as track engagement and the turnover of existing content," he said.
It can be used to "extract and analyse metadata to identify video genre and content sentiment, pulling topics from speech and text to make recommendations for subscribers. Much richer metadata will be critical to using AI and ML effectively."
Another key trend of the year –cloud-based/virtualised working – is being enthusiastically embraced by many of the UK's leading visual effects houses.
Dave Goodbourn, head of systems at Milk VFX, said: "There has been a lot of talking up of cloud-based working in recent years, but this has now filtered down to a genuine grass-roots trend that is fast evolving in VFX workflows."
Impact of the cloud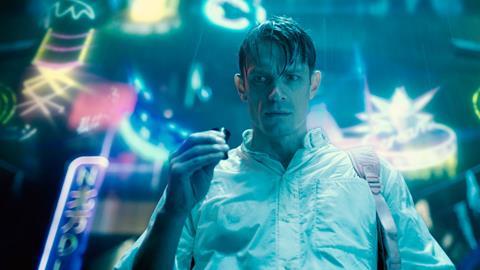 For Goodbourn, it's about wanting to compete at the top of the game, making use of resources far beyond his company's internal capacities, to scale up for working on high-end 4K projects.
"Working in the cloud allows us full scalability and flexibility on our roster of film and TV projects," he said. "We recently processed all rendering on feature film Adrift in the cloud – a job we couldn't have undertaken using our in-house resources – and the same applies to our work on Netflix's Altered Carbon (pictured above). Full cloud migration will lead to an enormous cultural shift in the way we operate and do business as an industry."
Goodbourn also sees significant potential for AI and ML to predict rendering times and costs for different shots: "This becomes really key the more cloud processing we do as an industry," he said.
This year has seen camera manufacturers continue to develop large-format sensors, with Sony and Arri shipping new full-frame cameras: the Sony Venice and Arri Alexa LF.
"The Venice is revealing itself as a versatile option for production, with native full-frame recording in 6K resolution or regular S35mm 4K crop," said Pro Motion Hire commercial director Jessica Lolliot. "But while 4K and large sensors have dominated the releases, we are still seeing high demand for the Sony-F55, Canon C300 MkII and the Alexa Mini and Amira. And still the workhorse for broadcast must be the Sony PXW-FS7."
Lolliot also believes there's been progress in kit designed for immersive production: "You can't ignore AR and VR as we see more and more technology being developed to bring these to the screen. Red is obviously working hard in this sector with its holographic phone, and it will be exciting to see where this leads us in the future."
Director of photography Brendan McGinty believes the migration to large-format sensors is having the biggest impact.
"The full-frame sensor options of Arri's LF, Panavision's DXL, Red's Monstro and Sony's Venice camera have all created a mix of enthusiasm and crisis in the world of cinema lenses," he said.
"While the shallow-focus look of the bigger sensors is visually striking, what of those DPs who have built careers based on vintage glass offerings? None of these will cover the far larger target of the full-frame sensor, especially the wider angles."
He believes this has led to the development of "beautiful new lens sets" for full-frame cameras, including Cooke's S7, Arri's Signature Primes, Zeiss' Supremes, and Panavision's Primo 70s. "I'm not sure there has ever been a time when more cinema lenses have come to market at once," he said. "We might be in something of a golden age for cinematographers."