The TV and film studio has expanded its audio post-production services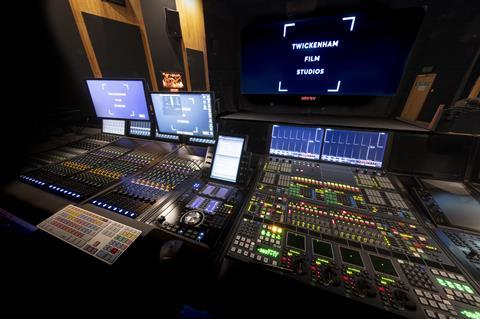 Twickenham Film Studios has taken on supervising sound editor Dan Morgan (pictured below, right) and sound designer Arthur Graley (pictured below, left) as part of the launch of the new sound editorial department.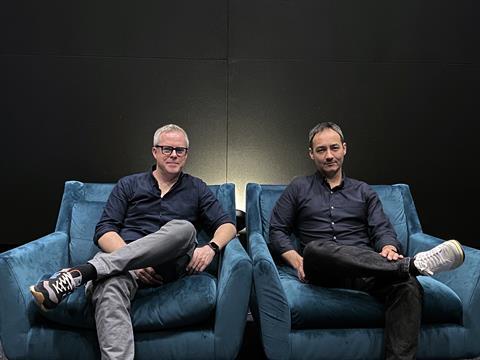 Twickenham's sound editorial department provides post-production services, including sound editorial, sound sesign, Foley and re-recording mixing.
The studio complex has opened a Dolby Atmos editing suite to work on feature film and episodic work for clients including Netflix, Amazon, Disney, Sky, Apple, HBO and Hulu.
Morgan started his 20-year sound career working on live TV and studio dramas. In 2000, he moved to Hackenbacker and in 2008, became freelance. He has a long-standing relationship with director Edgar Wright, including working on Shaun of the Dead, Hot Fuzz, Scott Pilgrim vs the World, The Worlds End and Baby Driver.
Most recently, he co-sound-supervised Wright's latest feature, Last Night In Soho.
Morgan said: "I am extremely proud to be joining Twickenham Film Studios, as the studios are going from strength to strength. I am looking forward to being able to offer productions the very best experience for across their sound post. With a highly talented and experienced crew coupled with the very best sound mixing Theatres in the UK, we are set to do the very best work."
Graley has worked with Morgan for over 20 years. His CV includes stints at Hackenbacker, from 1997-2007. He has since worked as a freelance sound designer and sound effects editor. His credits also include working on Wright's Last Night In Soho and Baby Driver as well as the video games Hitman 2 and 3 and the BAFTA winning Ghost Of Tsushima.
Graley said: "I started my career at the iconic Twickenham Film Studios so I'm really excited to be joining the newly energized Twickenham Film Studios family and to play a part in its future growth. Great people, great work."
Craig Irving, head of Twickenham Film Studios sound, adds: "The Twickenham Film Studios sound offering and team, with the addition of our new sound editorial department, makes us a major player in the UK post industry. Having worked with Dan and Arthur many times over the years I am so pleased they are now fully fledged members of the growing team. We look forward to supporting lots of existing long-standing clients, as well as key new clients, across all their needs from script to screen".
Twickenham Film Studios managing director Cara Sheppard, said: "The addition of our sound editorial department and bringing Dan on to head it up with Arthur means we have an even richer audio post-production offering ensuring an unrivaled experience. This means we can truly offer a creative campus unlike any other, guaranteeing a full-service end-to-end solution for all our clients across the big screen and small screen".