Sky Studios Elstree is set to open in 2022 and several other facilities have plans to expand
Sky Studios Elstree is set to open the first of its sound stages to productions in April 2022, ahead of a full launch of its 13 studios in the autumn. Made with the backing of Sky owner Comcast, and sister company NBC Universal, it will be the first purpose-built major studio complex to open in the UK for years, despite the industry crying out for additional studio space.
Construction has steamed ahead at Sky Studios Elstree since planning permission for the 27.5-acre site was granted in summer 2020. The studios will be home to Sky originals, as well as films from Universal Pictures, Focus Features and Working Title, and TV series from Universal Studio Group. It will also be able to host some productions from third-party producers.
"I know from all the talks we've had with producers that many are looking for space"
Caroline Cooper, Sky Studios
"We've got a full pipeline," says Sky Studios chief operating officer Caroline Cooper about bookings for 2022 and 2023. "I know from all the talks we've had with producers for our own shows, and also from Universal, that many are looking for space."
Elsewhere, dozens of press releases have been written in recent years announcing new studios, all looking to cater to the record levels of TV and film production in the UK. Yet many are still on the drawing board or awaiting planning permission.
The result is that production companies continue to find it difficult to secure stage space, particularly in London. Lambert Smith Hampton (LSH) – a leading property adviser to the UK film and TV industry – predicts that 2.3 million sq ft of new studio space will be needed by 2033 to meet demand.
Of course, there have been expansions of existing studios, such as Pinewood and Leavesden, while the likes of Bray Film Studios, Space Studios Manchester and Bristol's The Bottle Yard Studios are also planning to expand. Elstree Studios and Shepperton Studios have already begun their expansions.
Meanwhile, warehouses, factories and airfield buildings, like Arborfield Studios near Wokingham, have been repurposed, and temporary stages have been set up, such as the Troubadour Meridian Water Studios in North London and The Depot in Liverpool.
But demand for space remains acute, particularly since Disney and Netflix agreed long-term leases to occupy nearly all the stages and production facilities at Pinewood and Shepperton respectively in 2019. Against a backdrop of a $1bn (£756m) UK spend in 2021, Netflix agreed a similar deal with Longcross Studios in September 2021, and is also taking space at a new site in Enfield in North London.
The positive news is that other purpose-built studios are in the works, including Eastbrook Studios in Dagenham; Shinfield Studios near Reading; Mercian Studios in Birmingham; Sunset Studios in Broxbourne, Hertfordshire; and Littlewoods Studios in Liverpool.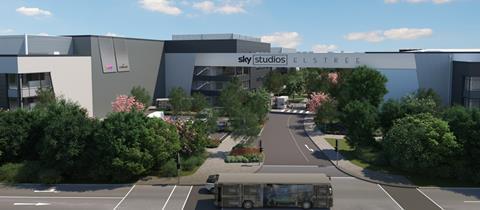 LSH head of media real estate Christopher Berry, who is involved in Eastbrook Studios and Sky Studios Elstree, says 2021 was a busy year. Investors, he says, have woken up to the opportunities: "It was a year when studios became a mainstream area to invest in. There is a lot of money around, and fewer places to invest in – retail is doing badly, offices are highly risky and industrial is so expensive."
Studios, by contrast, seem a safer bet, given the levels of production.
After Sky Studios Elstree, the next major studio likely to come online will be Eastbrook Studios, which is planned to have 12 sound stages totalling about 250,000 sq ft and is due to open in 2023.
Until then, existing studios will continue to enjoy strong demand. The long-established Elstree Studios says it has had an "incredibly busy" 2021, with studio occupancy running at more than 98% and shows such as The Crown and Strictly Come Dancing filming on site. Elstree Studios is expanding too, adding another two sound stages over 18,000 sq ft.
"We've benefited to some extent from London being full and people considering alternatives"
Rob Page, Space Studios Manchester
Space Studios Manchester managing director Rob Page says its purpose-built stages have been "really busy", with series such as Peaky Blinders and productions from Disney+ and Working Title. "We've benefited to some extent from London being full and people considering alternatives."
To help attract them, Space also launched a crew and facilities service through Screen Manchester. "We recognise that when productions come to us, particularly ones that haven't shot in the north-west before, they want some help," says Page.
To keep up with demand, Space is planning to add two new 20,000 sq ft stages, increasing the overall size of the site to 17 acres and eight stages.
Nearby, multicamera TV studio Dock 10 in Salford has also had one of its best-ever years. "From a business side, studios have never been so popular," says head of studios Andy Waters.
He adds that 'resilience' is a big differentiator between a purpose-built studio like Dock 10 and sound stages, with alternative connectivity providers and power back-ups all in place to keep live shows on air in case of sudden outages.
As well as hosting entertainment shows such as Who Wants To Be A Millionaire? and The Voice UK, Dock 10 has emerged as a major base for remote sports production. Last year, it was home to the Olympics and Euro 2020, providing virtual sets, commentary booths, galleries and post-production. In November and December 2022, Dock 10 will host coverage of the World Cup from Qatar.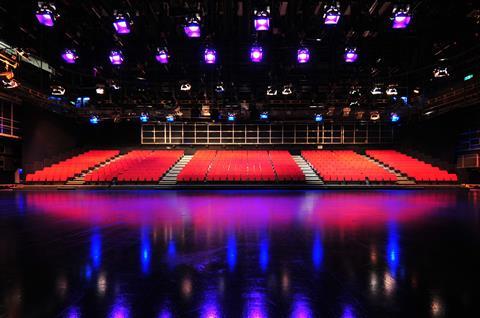 Fellow multicamera studio BBC Studioworks runs facilities at Elstree and Television Centre in White City, hosting shows such as Saturday Night Takeaway, The Last Leg and Never Mind The Buzzcocks. Chief executive Andrew Moultrie says that business was "booming" in 2021, meaning BBC Studioworks had to find pop-up locations to host some shows.
Studios are also facing some challenges due to the boom, says Moultrie. With production so busy, there is a shortage of skilled staff. "In multicamera studios, there is an ageing and un-diverse workforce that needs to be properly thought through," he says.
The push by PSBs to produce more content in the nations and regions is also an issue. Moultrie says BBC Studioworks has "plans to grow our business and open studios outside London".
There are other challenges facing studio operators. In the wake of Cop26, sustainability has risen up the agenda. "It's something that everybody will lean into more and more," says Sky's Cooper. Sky Studios Elstree has publicly stated its ambition to become the world's most sustainable film and TV studio.
As to whether there is too much stage space being built, Page says it's the "million-dollar question".
"In 2022, we're still going to be operating in a market where there is more demand than supply of stage space. But hundreds of thousands [of sq ft] will start to come online within the next two years."
"Where the tipping point is, I genuinely don't know. If demand keeps on increasing at the rate it has, [maybe] we won't hit that tipping point. But there is obviously the danger of it happening."
In other words, watch this space.
MAIN IMAGE: BBC Studioworks Stage 9 studio at Elstree Studios