Once the preserve of feature films, virtual production is increasingly being used in sport, drama and entertainment shows
Slowly but surely, the TV industry is embracing the possibilities of 'virtual' content creation. Drama productions, for example, are incorporating virtual production techniques – based on real-time games engines like Unreal Engine and Unity – to shoot against photoreal backdrops projected onto large LED screens.
House Of The Dragon, HBO's prequel to Game Of Thrones, is using the V Stage, a new virtual production stage at Warner Bros Studios Leavesden. Elsewhere, virtual production projects for Netflix, Disney, Sky and Apple TV+ are in development at several UK studios.
Meanwhile, some entertainment shows, as well as sport and news programming, are building virtual sets or set extensions, like those created at Dock 10 studios for Match Of The Day or the BBC's coverage of the Tokyo 2020 Summer Olympics.
Advocates insist that virtual studios not only allow more creative possibilities, but also save money, speed up workflows and make production more sustainable by reducing long-distance travel. The pandemic has only accelerated adoption of the technology. Netflix, for example, had planned to film period mystery 1899 in Spain, Poland and Scotland, but last year pivoted to virtual production at Studio Babelsberg in Germany.
After trialling the technology, several operators have opened virtual production studios in the past year. Among them is Warner Bros Studios Leavesden's V Stage, which features a 7,100 sq ft wraparound virtual production environment that uses a matrix of more than 2,600 LED panels.
Industrial Light & Magic, which hosted Disney's The Mandalorian at its LED StageCraft volume set at Manhattan Beach Studios in the US, has opened a similar virtual production stage at Pinewood Studios.
Mars Volume, a permanent virtual production facility, has opened its doors in Ruislip, west London. Camera specialist Arri has also launched its own LED volume stage in Uxbridge, while Garden Studios has installed a virtual production stage as part of an expansion of its Park Royal site.
Meanwhile, Timeline Television has launched a virtual studio as part of its new West London studio and broadcast facility, Ealing Broadcast Centre.
"Virtual production is really establishing itself now"
Simon Windsor, Dimension Studio
Simon Windsor, co-founder and joint managing director of Dimension Studio, which provides creative technology teams and on-set services for virtual productions, says: "Virtual production is really establishing itself now. It's suitable not just for feature production, but also drama and series production."
80six, which operates its own virtual production studio from its base in Slough and custom builds temporary, semi-permanent or long-term virtual production studios offsite or at other studio locations, has also emerged as a major player in the market.
Christina Nowak, director of film and TV at 80six, predicts it will be around five years before virtual production becomes standard within the industry.
Dock 10 head of studios Andy Waters compares it with the impact of the colour camera – once it was invented, there was only one choice. Dock 10 has just hosted a pilot for a gameshow using its virtual studio technology, having previously showcased it on BBC Bitesize and sports productions.
"You can barely see the difference between a real physical set and the virtual world"
David Hartnett, Timeline Television
One challenge virtual studios have to overcome is a belief that virtual sets are "gimmicky", says Timeline head of operations David Hartnett. This is based on the early days of the technology, when everything looked fake and sci-fi-like. "Now everything is photorealistic," he says. "You can barely see the difference between a real physical set and the virtual world."
For many studios, the big question is whether – or when – they should invest in virtual technology and expertise. Given that it is still at an embryonic stage, many are taking a wait-and-see approach.
Space Studios Manchester, which is planning to add two extra stages, is eyeing developments in the virtual production market carefully to make sure it future-proofs its expansion plans.
"The dynamics of cost and demand haven't really settled yet," says managing director Rob Page. "Until then, it's really difficult to make a judgement call."

Sky Studios Elstree, which will open its doors in April next year, has also looked to future-proof its facilities so it can accommodate virtual production. Sky Studios chief operating officer Caroline Cooper says investment in virtual production will be driven by demand. "We have specced our stages out so that we can facilitate volumetric stages. We've got really good connectivity – that's the key."
Many say the technology is moving so fast that they are holding back from investing for now. "You could invest now and the technology would be completely different in five years time," says one studio exec.
While 80six believes that virtual production stages will soon be a competitive feature for studios, Nowak says the studios don't need to buy in the kit themselves. Rather than making a capital investment in a virtual production stage that might need to be upgraded every two years, she says, it is better to lease it from a company like 80six. "There's new hardware every 18 months… and the software changes every six months."
Such is the complexity of the technology that many studios that offer virtual production or virtual studios do so in partnership with specialist companies. Pinewood has teamed up with Industrial Light & Magic and Arri with Creative Technologies for its LED stages, while Timeline's virtual studio is run in partnership with Moov TV.
Partnership approach
Indeed, partnership is a major theme within virtual production. Dimension Studio, for example, recently ran a virtual production innovation week with Sky Studios, DNEG and Arri to explore the possibilities of the technology – concluding that it is cost-effective and appropriate for TV production as well as film.
Another issue facing those looking to offer cutting-edge virtual workflows is recruitment of experienced staff who know how to make it work. "They are like unicorns," says Nowak. "There is a huge skills gap. There is not enough education or experience out there."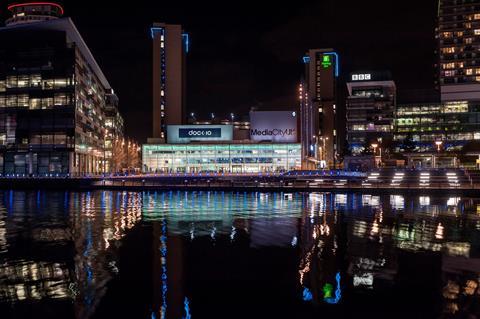 An on-set 'genius bar' to help run a virtual production requires a wide range of specialist technical expertise and companies like Dimension and 80six can provide the teams to create and deliver virtual production on large LED stages.
In December, the National Film and Television School (NFTS) launched its first course to service what it says is "unprecedented demand" for virtual production skills within the screen sector.
This demand is only going to grow as more broadcasters and streamers are won over by the technology, as Netflix chief executive Reed Hastings clearly is. Visiting the virtual production set of 1899 in September, Hastings said: "Right now, the most advanced production technology in the world is here. It's really cutting edge and amazing."
For studios, there is no doubt that virtual production stages will become an important part of their offer at some point in the near future. The big question is: when is the right time to invest?