A quick guide to the Video Assistant Referee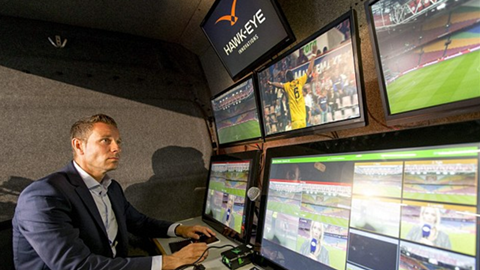 The Video Assistant Referee (VAR) has been one of the main sports-tech talking points of the year so far, after the system was brought in to assist the match referee in a trial of competitive football games in the UK.
The inaugural use of VAR in the UK was on Monday 8 January, in the third round FA Cup match between Brighton and Crystal Palace. Since then, it's been used in other FA Cup games, where it's already proved controversial. A case in point is Chelsea boss Antonio Conte criticising its usefulness in rejecting a penalty appeal in its third-round replay against Norwich last week.
How does it work?
With VAR, video officials watch the game from a separate location to the match, with the on-field referee, when required, viewing a screen at the side of the pitch to review goals, penalties, red cards and mistaken identity.
The on-field referee uses a wireless intercom to communicate with the VAR official, to prompt them to any incidents that need reviewing. The referee can then liaise with the VAR official while viewing the pitch-side monitor, before making the final decision on any contentious issues.
What is the technology behind it?
The VAR being used for the FA Cup trials is built around something called a SMART replay system, created by Sony-owned Hawk Eye Innovations.
SMART stands for Synchronised Multi-Angle Replay Technology. It takes the broadcast camera feeds and provides officials with numerous different angles of an incident, allowing "complete control of all broadcast feeds and enabling decisions to be made quickly and accurately either on or off-site."
What happens next?
Following the current trial of VAR, the International Football Association Board (IFAB) will decide in March 2018 if the use of VAR should be rolled out more widely.