Two years after its launch, the VFX firm has moved to a larger office to meet growing demand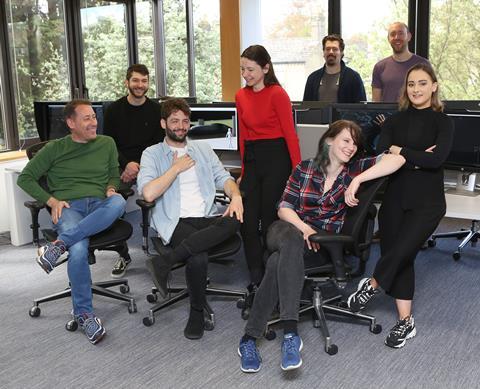 Cambridge-based Vine FX is expanding into a new 2,000 sq ft office with room for 30 artists.
The expansion comes two years after the company was set up in a one-man office in the city by VFX supervisor Michael Illingworth.
Since then, Vine FX has worked on BBC1's Troy: Fall Of A City and Sky Atlantic's Patrick Melrose. It was also the sole vendor on ITV's upcoming Beecham House and Fox Networks and Canal Plus' adaptation of War Of The Worlds. The company has also worked on Cold War drama Summer Of Rockets, starring Keeley Hawes.
Vine FX has worked closely with Escape Technology to kit out its new facility, investing £150,000 in technology such as superfast fibre connectivity, half a petabyte of storage, and tools like Nuke, Maya, Arnold and Flame.
Vine FX is the only VFX house serving the TV and film industries in Cambridge, and its growth challenges the notion that VFX houses have to cluster in creative hubs such as Soho to find success. Bournemouth-based Outpost VFX also recently expanded its HQ to a 10,000 sq ft facility with room for 150 employees.
Long-term dream
Illingworth, who has lived in Cambridge for 20 years, said it was a long-term dream to set up in the city. He previously worked as a compositor and VFX supervisor in Soho, and at Warner Bros Studios Leavesden in Hertfordshire.
He said that with tech advances such as fast broadband and remote viewing tools, clients are now comfortable with the idea of a facility not being based in London. "Rather than endless screenings where the client has to come round, they can now give feedback remotely. It's far more efficient," he noted.
Illingworth added that it is more cost-effective for Vine FX to be based in Cambridge than London. "Cambridge is still expensive, but the rents are nowhere near those of London," he said. "If work goes quiet in London, you have huge overheads hanging over you – and that kind of pressure can be very uncomfortable."
Recruiting talent was an issue in the firm's early days, but is no longer a problem now that word has spread about the facility, said Illingworth. Lots of VFX talent can no longer afford to live in London so are renting or buying outside the capital, he added. Vine FX either recruits talent from the local area or takes on staff who live north of London and are able to commute to Cambridge.
Illingworth said Cambridge is a "hotbed" for tech firms and video games developers, with companies based in the city ranging from Ninja Theory, Jagex and Raspberry Pi through to Apple, Amazon and Microsoft.
Head of production Laura Usaite said Vine FX is trying to create an environment where "people really want to work".
"We want to create an environment that people enjoy working in, then we will get the best staff and artists," she added.
As such, Vine FX is looking to set itself apart from the long hours, high-pressure culture of many VFX houses.
This is becoming a significant way for many facilities to attract the best talent. Outpost VFX, for example, recently introduced an uncapped holiday policy for its employees – a move it said gives its artists more control over their work/life balance.