The facility, called V-Studios, is being launched by film and TV studio group Film Soho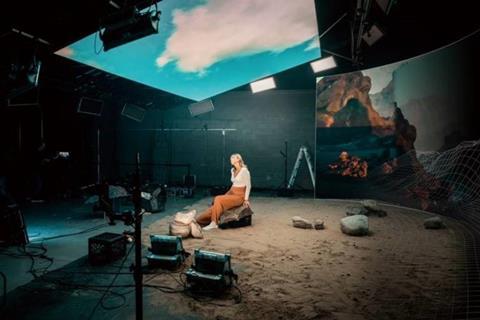 Film and TV studio group Film Soho is opening Soho's first virtual production facility, V-Studios.
The virtual production space, in Portland Mews Soho, will be powered by the disguise Extended Reality (xR) workflow and features Absen's 10m x 5m LED wall.
V-Studios is pitching itself for full production work ("transporting an actor around the world within a day, while not reliant on time or weather"), as well as pre-visualisation, virtual location scouting, additional photography and feature film pick-ups.
Film Soho is a group of brands, including talent agency Soho Talent; in-house production company Captain Dolly; ADR sound stage krADR; post-production facility Film Post; and sales arm Studio Soho Distribution.
Nick Hamson and Chris Greenhill, founders of Film Soho, said: "Film Soho are excited to launch the first ever virtual production stage in the heart of Soho at the end of this year. As a talent and production led company it made perfect sense for us to incorporate Virtual Production into our filmmaking offering."
Annabel Martin, director of operations, added: "We are on the precipice of huge change, altering filmmaking as we know it. We are particularly excited about previsualisation, as this will really elevate and ultimately improve the content made, while reducing the carbon footprint. It's a hugely exciting time for us as a company to be involved in this new era of filmmaking."