Dock 10's Richard Wormwell on the Salford facility's early adoption of a technology that is changing the way TV is made
Dock 10 studios in MediaCityUK, Salford, has pioneered the use of virtual studio spaces, including the much-lauded virtual set for Match Of The Day, unveiled at the beginning of the 2019/20 season. Head of production innovation Richard Wormwell explains how it became an early adopter of the technology.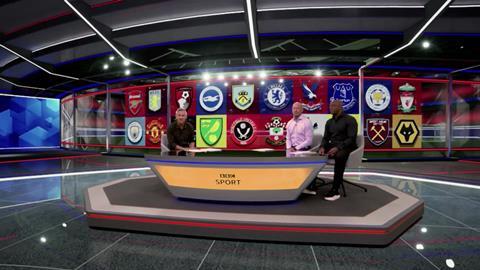 What are virtual studios and what advantages do they offer over a conventional studio space?
Typically, when people think of a virtual studio, they think of a room with green walls and a green floor. The presenter stands in the middle and the green around them is replaced on screen with a new background. This allows you to put presenters into environments that would not be possible or practical to build as a physical set – a tropical rainforest, for example.
However, these traditional virtual studios bear no comparison to the modern technology we are using at Dock 10 – it's like comparing SD to UHD/HDR. We have taken a radically different approach and instead of building a single virtual studio, which can be restrictive in size and space, we have given all of our studios a virtual capability.
All the technology is centralised and can be deployed to any or all of our 10 studios at any time so that creative directors can choose the size of studio that best fits their requirements.
When did Dock 10 begin offering virtual studio environments and why did you decide to become an early adopter of the technology?
We announced our new UHD-ready virtual studio offering back in May 2019. Basic green-screen technology – and even virtual studios – has been around a long time, but what excited us were the possibilities coming out of gaming technology. We saw the potential to take green-screen to the next level by using the real-time photorealistic graphic rendering that makes the virtual environment look so much like the real world.
The movie industry and some TV dramas have been doing this for years, but they put the actor into a green screen for the impossible shot and then add the virtual world in post. Now, thanks to advanced camera tracking and graphic processing, we can do the whole shot in real-time, live on screen, so the director sees what the viewers will see. These advances are truly breathtaking and will change the way we make TV forever - we wanted to be in it from the start.
What are some of the big virtual studios you've created to date?
This past year has seen an explosion of demand for our virtual studio capability. Broadcasters like the BBC were already early adopters, using our virtual studios for sports shows like Match Of The Day, Match Of The Day 2, Football Focus and Final Score. Our virtual capability has allowed them to create different virtual sets for each brand in a way that would have been impractical with a traditional set.
When the schools closed at the start of lockdown last March, we created the virtual classroom for the BBC's Bitesize Daily in record time. And with many live events cancelled during the pandemic, we hosted the Broadcast Tech Innovation Awards from a virtual studio. Another project saw us build a virtual stadium for an interview with Liverpool and England star Trent Alexander-Arnold.
How long do they take to create, and what skillset is required to generate and run the studio environment?
A set can take anything from a couple of weeks to a couple of months to create. We use industry-standard processes and graphics generation so we can import from almost any standard 3D package. This allows detailed elements to be added quickly.
However, the system can build a virtual world as complicated as you can imagine, so some projects may involve months of design and planning to perfect. The skillsets required for our virtual studio are entirely new to television, so we have to recruit people with experience of VFX in movies and the games world.
How easy is it for presenters and crew to adapt to the virtual world?
Like any new technology, some people adapt to it easily while others need more time. But virtual studios are here to stay, and we are training as many people as we can to give them experience and skills for the future.