All the speaker sessions from Day 1 of the Broadcast Sport Tech Innovation Forum 2020 are available to watch below.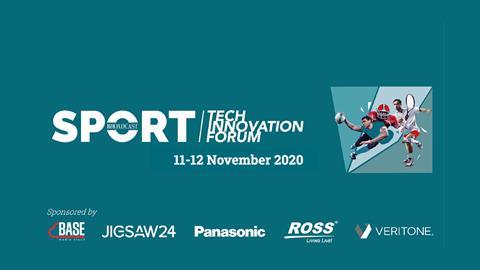 The Broadcast Sport Tech Innovation Forum 2020 was held on the online conferencing platform Hopin on 11-12 November 2020.
It was an exclusive event for the sports production sector where attendees could engage with live sessions, hear from various speakers and network with other delegates.
Over the two days we took a deep dive into the innovations being used across the many verticals of sports media, hearing from broadcasters, producers and rights holders.
All the speaker sessions from Day 1 are now available to watch on-demand below.
Session 1 – The Broadcaster panel
Two of the UK's leading sports broadcasters discuss the many challenges of 2020 and how they adapted to provide new ways of working during Covid-19.
Speakers:
Jamie Hindhaugh, COO, BT Sport
Philip Bernie, head of television, BBC Sport
Chair: Jake Bickerton, editor, Broadcast Sport
Session 2 – How to successfully launch a D2C OTT platform
Motorsport Network president James Allen discusses the setting up of D2C OTT platform, Motorsport.tv
Speaker:
James Allen, president, Motorsport Network
Chair: Heather Fallon, journalist, Broadcast
Session 3 - Fan Engagement During Lockdown And Beyond
This session discusses how the audio and images of the virtual fans are created and given life-like characteristics and what's next for the virtual fan.
Speakers:
Mike Norrish, director of creative and digital, BT Sport
Duncan East, head of directors and creative, Sky Sports
Chair: Sadie Groom, managing director, Bubble PR
Session 4 - Innovation in lockdown
Spanish sports production giant MediaPro and NEP division Creative Technology talk about the innovations they have brought into play during lockdown.
Speakers:
Emili Planas Quintana, CTO & operations manager, Mediapro
Sid Lobb, head of vision & integrated networks, Creative Technology
Chair: Megan Johnston, senior partnerships manager, Sky Sports
This panel talks about the value of free-to-air sports TV and why it remains important as part of the sports broadcast mix.
Speakers:
Barbara Slater, director, BBC Sport
Giles Goodwin, head of content strategy, Sport Channel Network
Rob Brown, head, LiveScore TV
Chair: Chris Curtis, editor in chief, Broadcast
Session 6 - The Producer Panel
This panel discusses the challenges for sports production companies during Covid-19, as well as how tech has enabled new workflows that add efficiencies and make it possible to continue safe and cost-effective sports production in the current environment.
Speakers:
Nick Moody, exec producer, Sunset + Vine
Jemma Archer, senior producer, Whisper
Matt Beal, exec producer, Aurora
Chair: John Elmes, international editor, Broadcast
Session 7 – The Future of OB
There's been a steady move to remote production of live sports over recent years, with Covid-19 rapidly accelerating this move across the board. This panel discusses how OB companies are responding to this challenge to their business model.
Speakers:
Daniel McDonnell, CEO, Timeline TV
Daragh Bass, head of sales, NEP Media Solutions
Hamish Greig, CEO, CTV Outside Broadcasts – EMG
Chair: Jo Adams, commercial director, Luna Remote Systems