The new studio complex will open next year, offering six sound stages, with a 30,000 sq ft virtual production stage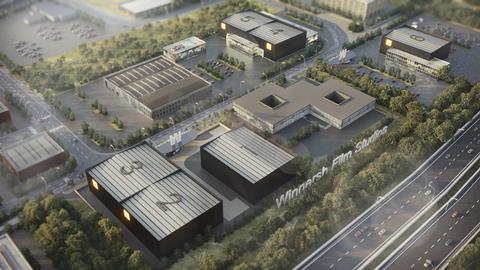 Film studio operator Stage Fifty has released details of its second UK studio, in Winnersh, just outside of Reading, in Thames Valley.
The Winnersh Film Studios is already operational, and will eventually offer 120,000 sq ft of studio space, including a purpose-built 30,000 sq ft stage that will house what Stage Fifty describes as the "world's largest fully-encapsulated virtual production volume."
The complex is set to open fully by next year, and will result in the creation of 500 new jobs in the film and production sector, and an estimated boost to the UK economy of around £50m.
Stage Fifty currently operates film studios at Farnborough International in Hampshire, which it opened earlier this year.
The Winnersh Film Studios are on a much larger scale, with the plan to open six sound stages as well as 25,000 sq ft of offices and 50,000 sq ft of workshops.
The offices and workshops are the currently operational part of the complex, which are open for pre-production. The stages, including a 30,000 sq ft stage with the virtual production volume, will open next year.
The virtual production stage is being created in partnership with Fin Studio Pictures, and will feature an 84 x 7m screen with over 140 million pixels. It is built around technology from disguise, infiLED, Unity, Unreal Engine, Brompton Technology and Target3D.
James Enright, CEO, Stage Fifty, said: "We're developing a world-class creative tech hub for the film and TV industry at Winnersh Film Studios. Our stages are robust, high-quality and quick to build. And as 90% of the construction materials are reusable or recycled, they're more sustainable too. We worked with Frasers Property to secure the space for the new studio at Winnersh Triangle Park. It's in a great location with fantastic facilities already in place. Wokingham Borough Council and the Local Enterprise Partnership are investing in the transport infrastructure to support more sustainable travel, which was another reason for choosing Winnersh.
"One of the biggest challenges our industry is facing is the availability of skilled crew. We have exceptional talent in the UK, but there are not enough people to meet demand, so we'll work with the local community to offer training and apprenticeships to support the next generation of great British filmmakers."
Adrian Wootton OBE, chief executive of the British Film Commission, added: "Today's announcement of the opening of Stage Fifty's Winnersh Film Studios is brilliant news for the UK's screen industries. Our industry is experiencing a phenomenal growth period. Indeed, the demand for content has never been greater, which in turn is driving the need for greater skills development and additional studio space, services and facilities. The creation of additional stage space capacity such as that at Winnersh Film Studios will help considerably in ensuring that the UK remains a global leader in international screen production."