Vendors are doing all they can to ease broadcasters' fears about moving playout to the cloud, but there are still hurdles to overcome, writes Adrian Pennington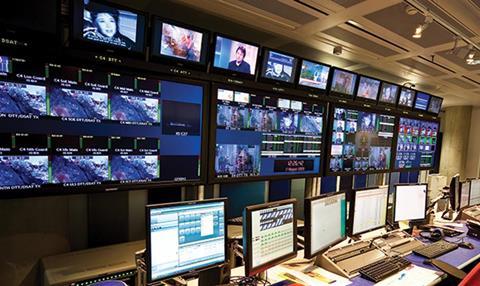 Playout refers to the transmission of TV channels in a suitable delivery format and, along with every other aspect of the industry's technical infrastructure, it is being inexorably divorced from specialised hardware to run on commodity IT machines.
The area is drawing particular focus as vendors press chief technology officers at broadcasters and multi-channel video distribution facilities to make the switch to a cloud-based model that works with software versions of their technology.
However, broadcasters are an inherently conservative lot and are treating manufacturers' claims with scepticism.
Playout technologies have been software-based for some time. Graphics, subtitling, video and audio processing, among other functions, can be managed in software, often bundled together as a channel-in-a-box (CiaB). The next step is to port the software to work on virtualised servers (IT hardware that may or may not sit on the broadcaster's premises) to take advantage of the power and scale of networked computing – otherwise known as the cloud.
"We would not be having this discussion if the industry were healthy," says Grass Valley vice-president of digital media and workflow Boromy Ung. "Broadcasters are being forced to be less reluctant under economic pressure from competitors like Netflix."
However, developing software from products that previously relied on fixed hardware configurations is not always straightforward when dealing with a less familiar IT environment.
Lewis Kirkaldie, head of product management at Cinegy, likens the status of cloud playout to the introduction of file-based camcorders a decade ago. "You could acquire tapelessly but the capacity of the record media was limited and not necessarily compatible with other parts of the chain," he says. "Everyone has been focused on meeting the initial hurdle of putting playout on a server in the cloud. That is technically possible, but there are all sorts of other support elements to think through."
For example, a channel's audio standard may be Dolby Digital, in which case the playout technology needs to integrate Dolby software encoders. It may need to add audio profiling to manage different languages or tracks for stereo and 5.1 sound, or audio watermarking for audience measurement. All of which adds to the complexity.
Some of the confusion arises from different views on what the cloud means. Research by media technology firm SAM (Snell Advanced Media) suggests there is a split between broadcasters investigating private data centres, sometimes located in the basement, and those that are evaluating public cloud providers like Amazon and Microsoft.
"The first brings a level of comfort and security," says Karl Mehring, director of playout and delivery at SAM. "The costs are more predictable and it's really about the first phase of migrating away from SDI in a controlled way. The latter brings exciting opportunities for scaling dynamically on demand and more easily providing delivery to a global audience."
Pebble Beach Systems sales director Tom Gittins says that use of the public cloud raises issues around service level agreements (SLA), which service providers have to comply with but which may not coincide with the terms their customer demands. "For this reason, we are seeing a degree of reluctance among service providers towards hosting services in a public cloud. That said, things are changing, with meaningful discussions currently under way for the public cloud to be used to host temporary channels," he says.
Broadcasters have already begun to free themselves from owning and maintaining physical infrastructure by outsourcing playout to service providers. Both parties can now go a step further, using the economies of scale to create networked computing resources that rent capacity, saving on staffing costs. The budget for launching a new channel over IP can be recalculated from several millions of pounds to a few hundred thousand.
"If a broadcaster is migrating to a cloud-based infrastructure to reduce costs, it is quite possible that they are focused on the wrong thing," says Mehring. "It is a possible outcome, but not a given. The real benefit of going to the cloud is the ability to drop reliance on SDI and co-locate linear playout with other OTT platforms to bring targeted commercials and other personalisation strategies to an audience."
Conceived this way, 'publishing' may be a more appropriate term than 'playout'. "We are helping clients shift from thinking about channels to thinking of publishing streams," says Imagine Communications vice-president of playout Tim Mendoza. "Streams offer totally different ways to connect to customers. They can be personalised, so you can sell more advertising with digital ad insertion and make more revenue from content."
A key business opportunity afforded by the cloud is the ability to launch and close channels in a matter of minutes, rather than months. Provided the channel is templated and the technology pre-integrated and tested, the process is said to be as simple as writing an email.
"Cloud-based operation completely rewrites the financial model for broadcasters, allowing them to introduce pop-up channels aligned to specific events or regions, or special-interest supplementary programme feeds, quickly and without demanding up-front capital," says Don Ash, president of PlayBox Technology.
While broadcasters may defer the risk of transferring their primary channels to the cloud, they are likely to experiment with this type of application first. Other first-mover applications include disaster recovery (DR), in which channel operations are mirrored on remote data centres in case of main equipment failure.
"DR is the safe and sensible strategy to adopt when dealing with a paradigm shift like this," says Mehring. "It gives a broadcaster a way to evolve its skills and assess the technology in a low-risk way."
The type of channel also has a bearing. "For now, the cloud is better suited to 'simple' static channels, where schedules are typically locked down well in advance of playout, or updated once a day, with all media derived from clips and with relatively simple graphics and branding," says Gittins.
By contrast, national channels running 24/7 with live events, live voiceover and real-time graphics require far greater operator involvement. The fewer the moving parts, the easier it is to set an IP stream in motion.
"The reality is that there is no truly cloud-based playout solution currently available that can emulate a CiaB," says Ash. "Most cloud playout offerings, and nearly all graphics engines, require a dedicated graphics processor or other hardware to be on the cloud server."
Naturally, PlayBox's new software-centric CloudAir suite is claimed to achieve this. "It's able to provide true playout with graphics on any enterprise- class server," says Ash. "Once the software is installed, no auxiliary hardware is required at all."
Mehring says: "There's a common misconception that a complex channel is a live content channel. Some of the most complex requirements can come from thematic channel brands. For example, there are children's entertainment brands running on SAM's ICE CiaB that need very complex audio, subtitling shuffling and insertion rules."
Moving to 4K/UHD is of another order entirely. The increase in data requires significant computing power using dedicated GPUs as opposed to CPUs. "The majority of graphics on air now can be done with standard data centre hardware but when you go to 4K, that would require specialised architecture," says Mendoza.
Over time, the cost will fall and the performance will improve, as will the performance of HEVC software codecs for compressing UHD. But for now, publishing 4K from the cloud is challenging for VoD – though not impossible, as Netflix shows.
The move to cloud playout is accepted as inevitable; it is the timing of the investment that is at issue, and it's an area that Grass Valley is keen to exploit. Its Stratus solution locates control and monitoring in Microsoft Azure but the playout of clips outside the cloud, at the edge of the internet. The output is SDI, not IP.
"There was a lot of scepticism around the cloud 18 months ago when Stratus was launched to address some of those concerns," says Ung. "It combines the best of both worlds. You can control playout from any location with the reliability of SDI."
Imagine's customers are doing "due diligence", according to Mendoza, "looking very closely at every vendor to see who can provide the overall solution". But no major UK broadcaster has yet taken its channels into IP playout.
"The biggest barrier is a lack of knowledge at all levels," suggests Mehring. "Broadcasters and service providers can't afford for any part of their business to have a hiccup because margins are low and jobs are on the line. It's not just about repeating today's playout model in the cloud, it's all new."
There are questions around which IP streaming format – SMPTE 2022-6, H.264 or VC2 – to use and how those streams will be decoded and tested if broadcast engineers don't have the tools or knowledge.
In particular, there are questions surrounding live feeds, where the latency of cloud solutions has not been ironed out. Multi-vendor collaborations, notably the EBU-sponsored Sandbox+ experiment, are testing the means to produce and transmit live studio programming over IP with zero tolerance.
As an indication of the size of the challenge of moving broadcast over to the new technology, Deluxe MediaCloud recently incorporated a Teletext system for Australian PSB Special Broadcasting Service (SBS), which the broadcaster still relies on for subtitles. "We're taking a technology built in the 1970s and mapping it into IP," says Deluxe MediaCloud managing director Maurizio Cimelli. "That's the kind of juggling act we're facing."
Deluxe MediaCloud at SBS
Australian PSB Special Broadcasting Service (SBS) has outsourced playout for its World Movies and NITV channels to Deluxe's MediaCloud. Deluxe took control of SBS's operation in January and transferred 58 SBS staff to Deluxe.
A further channel will be launched on the platform later this year, while SBS1 and SBS2 will migrate in April.
"The channels being delivered for SBS contain live events, multiple regions and time zones, dynamic graphics and must be on air in excess of 99.99%," says Tom Holmes, sales and marketing director at Deluxe MediaCloud.
Main control and management of the channels is from Deluxe's Sydney facility. Control of DR can be provided via any of its global operations centres.
The service extends beyond playout, incorporating media traffic and management, network contribution and distribution, and support. The technology supporting the solution comprises orchestration and asset management tool Portal; PortalLive for management of contribution and delivery; and playout automation delivered through Deluxe partner Cinegy.
"Deluxe is working with SBS to improve its broadcasting processes so they derive further business benefit from the new platform," says Holmes. "For example, faster channel launches, greater visibility of assets and improved control of contribution."
Pebble Beach at DMC
Amsterdam-based DMC is in the process of offering IP-based playout services to some of its client video distributors and content owners.
After evaluating several vendors, DMC awarded the contract to Pebble Beach Systems to supply it with a new Orca system. According to the vendor, Orca features the equivalent functionality in software for tasks such as video processing, graphics and subtitling, which were previously handled by individually wired systems. Pebble Beach's Marina automation controls the channels that will be played out on virtual machines in a private cloud.
The implementation deploys standard IT hardware, sourced and maintained by DMC.
"For Orca deployments, we will agree a series of channel design templates to suit the channel characteristics of the customer," says Pebble Beach sales director Tom Gittins. "These will be configured and tested in advance, and can then be deployed quickly. In this way, adding further channels is simply issuing a pre-defined template."