Professionally created mo-cap assets for between US$3-6 each can be downloaded for use in Maya 2020 projects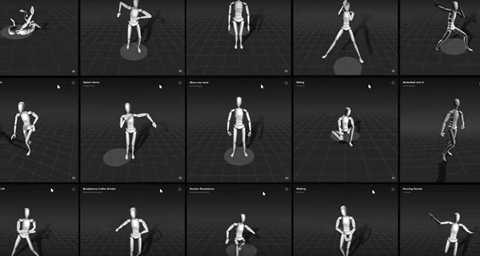 Animation specialist Rokoko has launched the "world's largest mo-cap marketplace", providing VFX artists and game developers with thousands of professionally created mo-cap clips you can drop into any Maya 2020 project.
The 'Motion Library' is available through the free Rokoko Studio app, and offers mo-cap created by Hollywood VFX studios behind the likes of Wonder Woman and League of Legends. Each clip costs US$6 or less.
The clips span from basis such as a person walking naturally to a hero roundhouse kicking a bad guy. Clips can be previewed in Rokoko Studio, and then download and imported directly into an external platform.
Once purchased, the mo-cap clips can be used indefinitely, across multiple projects.
To mark the launch, Eric Jacobus has created 50 original assets (see below), including physically intensive and high-impact movements, which will be available to users.
Rokoko says the Motion Library will continue to expand significantly as mo-cap assets are continually added to the database. Anyone can become a publisher and sell their assets directly on the marketplace.
Jakob Balslev, founder and CEO of Rokoko, said: "Our goal with the Motion Library marketplace is to create a centralised hub and a resource for mo-cap users and creators. Motion capture shouldn't belong exclusively to companies with big budgets, it should be accessible to everyone. We can't wait to see some of the possibilities this marketplace will open up."
TJ Galda, senior product line manager at Maya maker Autodesk, added: "At Autodesk, we're always looking for ways to make the tough parts of production smoother for our customers. By partnering with Rokoko, we're making what's usually a costly and time-consuming step easier than ever before."