The Covid crisis has required post houses to come up with new ways of working remotely. Jake Bickerton highlights some of the most impressive work of the past few months
STAGED
PRODUCTION Infinity Hill; GCB Films
POST OnSight
WATCH IT BBC iPlayer
The 6 x 15-minute episodes were written and directed by Simon Evans and producing partner Phin Glynn during the pandemic. They centre on the cast of a play who are furloughed when their upcoming West End production comes to a halt, and who attempt to keep rehearsals on track despite lockdown.
The production was filmed by self-shooting, using video-conference technology and via a voice app, and the files were then sent to the editors.
The offline editing was completed in Avid and handed over to OnSight, which completed the online and grade in Da Vinci Resolve. The online involved linking back to the high-resolution footage, which, says online editor Adam Sample, "was difficult considering the webcam sources, but after the grade had been applied, it was the storyline that carried this project to the winning line."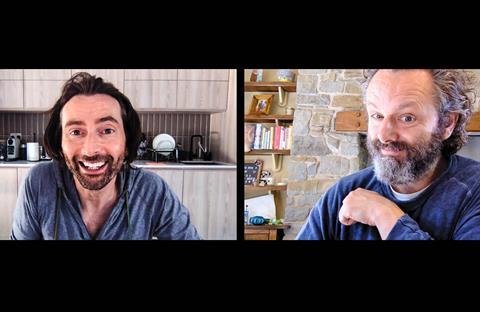 "The episodes had multiple windows of action within them, and these were meticulously laid out to keep a consistent feel throughout, with no variation between the shows for a nice feeling of continuity," he adds.
The challenges of working with low-res footage from a webcam with unpredictable lighting were evident during the colour grade. The material was heavily compressed so it was tricky to pull keys. Added to this, the laptop/tablet cameras had auto adjust settings, such as exposure and white balance, so these varied throughout. As a result, individual shots often needed a lot of attention.
Furthermore, time and effort had been taken with the timing and positioning of the front and end credits as they were integral to the overall rolling story and punchline in each episode.
The colourist was Ellory Payne, the online editor was Adam Sample, sound design was by Andy Coles and the post producer was Joana Coelho.
Staged producer Victor Glynn says: "OnSight has been tremendous. Notwithstanding our implausible schedule, it delivered world-class material to us in a calm, courteous, unflustered and timely manner."
LOVECRAFT COUNTRY
PRODUCTION Monkeypaw Productions; Bad Robot Productions; Warner Bros Television Studios.
VISUAL EFFECTS Framestore
WATCH IT Sky Atlantic
This 10 x 60-minute horror-drama was developed by Misha Green, based on the 2016 novel by Matt Ruff. It analyses the cosmic, creature-filled world of horror writer HP Lovecraft from a fresh perspective. The story follows a young black man who travels across the segregated US of the 1950s in search of his missing father.
Framestore's VFX work centred on the design, creation and animation of the Shoggoth, the supposedly 'indescribable' creature from Lovecraft's fictional universe, Cthulhu Mythos.
Framestore's art department created several iterations of the Shoggoth, which appears in two different forms in the production. The VFX house also devised an array of other-worldly creatures and ghosts, based only on limited descriptions of the creatures in Lovecraft's work.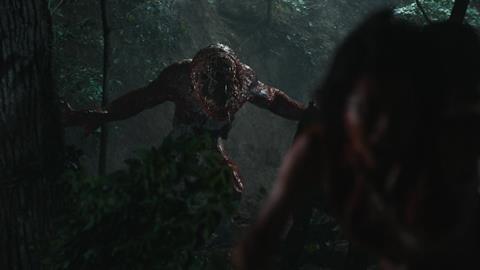 The Shoggoth has translucent skin, meaning its veins and muscles are visible. Its eyes are dotted all over its head and back and the creature has several different appendages, which it uses to grab and devour the target of its attacks. In one of its forms, the Shoggoth is white and appears in a number of frantic, vicious scenes. The other form is black, larger and more intimidating, and is seen in more detail in the series.
Framestore VFX supervisor Grant Walker explains: "Many of Lovecraft's creatures were said to be so hideous that they couldn't be described. We had to bear in mind that 'unfathomable' nature but also think about the Shoggoth in a realistic way, not just making decisions about how it looks but how it moves, its behaviour and how it interacts with its environment."
Framestore designed and built the Shoggoth's 3D assets ahead of the shoot to allow the special-effects department to be confident about their size and appearance. "I think we ended up with something of a departure from what was initially devised within Lovecraft's mythos, but the end result is a creature I think will have a big impact," says Walker.
RISE OF THE MURDOCH DYNASTY
PRODUCTION 72 Films
POST Envy
WATCH IT BBC iPlayer
This three-part BBC2 series uses rarely seen archive material to shed light on media mogul Rupert Murdoch's private world.
Envy online editor Dicky Everton explains: "The director Jamie Roberts and I spoke at length regarding the visual style he wanted to achieve, specifically leaving the archive looking quite raw, and the overall typography design. We communicated using a custom-built 'Zoom trolley' in my online room. This allowed us to chat, while he could see me and the output monitor.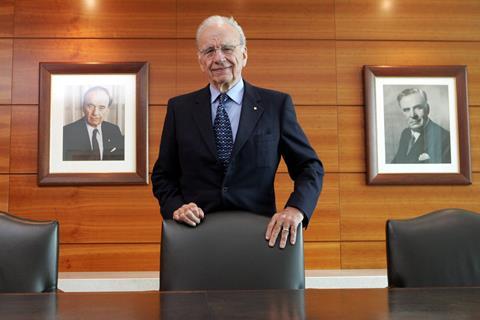 "This system provides the client with the closest experience to actually being 'in the room', while working remotely. Jamie could also view a high-res feed of my output over a secure Streambox link at any time.
"Jamie and I worked through all interview set-ups, racking every shot, ensuring consistent head room and eye-line for each contributor. All 4:3 archive was kept pillar-boxed. Jamie was particularly keen to preserve any film damage or video distortion on the edges of the frame, which we did."
LITTLE BIRDS
PRODUCTION Warp Films
POST Technicolor
WATCH IT Sky Atlantic/Now TV
Technicolor provided full post services for this Sky Atlantic drama set in the 1950s. It used in-house developed iOS app TechStream to enable colour, sound and VFX review sessions to happen remotely, allowing post work to carry on uninterrupted during the pandemic.
The grade was handled by colourist Dan Coles, working closely with director of photography Ed Rutherford. Coles says: "Within our Little Birds world, we liked to embrace the idea of going on a journey of colour – as the hedonism and intoxication of life intensifies through the episodes, so does the colour contrast and saturation.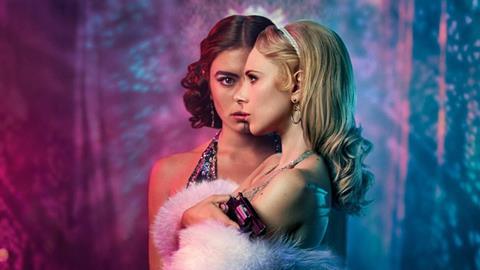 Skies were treated and enhanced and sometimes given strips of colour, to intensify our strange, exciting and unique world. "The raw format gave me scope to push colours to incredible levels. And with very little filtration used in-camera, Ed gave me the chance to add lots of texture, depth and diffusion as part of the grading process.
"Grades, vignettes and selective defocus were also used to accentuate our look. I am looking forward to pushing the look further in the HDR grade."
THE VOICE KIDS
PRODUCTION ITV Studios
POST Dock 10
WATCH IT ITV Player
Dock 10 was already well under way with the edit of The Voice Kids 2020 when Covid-19 lockdown measures were implemented. Overnight, the facility transitioned seven edit suites and multiple logging and viewing stations from in-facility to remote workflows, hosted from its MediaCityUK base.
The grand final became ITV Studios' first big studio show post-lockdown. It was pre-recorded at Dock 10 studios and made 'as live', with footage from 18 cameras automatically captured onto Avid Airspeeds for a fast-turnaround edit. Due to quarantine restrictions, the VTs for the final were recorded a couple of days before the main studio record.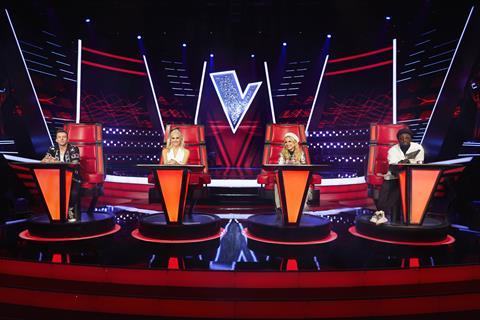 Dock 10 senior editor Rob Douglas-Reeves completed the finishing of the series, ensuring consistency across multicam portable single-camera material, and giving it the look and feel of a prime-time entertainment show.
The final recorded show was streamed to a live, at-home audience who voted for the winner, while the ITV team and execs were able to stream and approve the high-res final pictures remotely from locations across the country.