DAZN now has domestic broadcast deals for both Serie A and LaLiga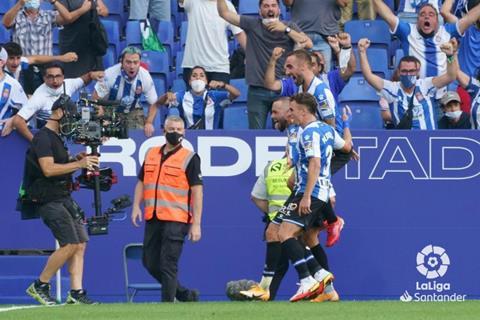 DAZN and Telefonica will share the domestic broadcast rights for LaLiga between the 2022/23 and 2026/27 seasons.
The pair paid a combined €4.95 billion (£4.23 billion) for the rights, which comes in as an average of €990 million (£845.26m)-per-season. This is about €10 million (£8.53m) more than its current exclusive deal with Telefonica - which comes to an end this summer.
After having held the rights exclusively, Telefonica will now have the rights to five matches-per-gameweek, as well as exclusive access to three full gameweeks - all of which will be shown through Movistar. Meanwhile, DAZN will cover the other five matches-per-gameweek - except during those exclusive gameweeks.
This is DAZN's second major domestic football rights deal, following its successful bid for Serie A earlier this year.
The broadcasters took advantage of the league's decision to extend its media rights deals to five years, having formerly been for only three. LaLiga went ahead with this despite the Spanish markets and competition regulator, the Comisión Nacional de los Mercados y la Competencia (CNMC), recommending that the plan to offer four and five-year deals be scrapped.
This decision appears to have paid off, with a slight rise in rights value in contrast to how the other major European leagues have fared in their most recent domestic rights cycles.
The Premier League renewed its deals with Sky Sports, BT Sport, Amazon Prime Video, and BBC Sport at no increase, Serie A sold its rights to DAZN at a lower price than its prior deal, and Ligue 1 also took a lower price to sell to Amazon Prime Video - following Mediapro dropping the rights altogether at the beginning of 2021.
However, the path to further growth may be through international deals, with the Premier League more than doubling its US rights deal with NBC recently - hitting £2 billion.
LaLiga will now move on to rights tenders for LaLiga SmartBank, the hospitality channel, and the LaLiga Santander free-to-air match - which are expected between February and March 2022.