South London sitcom ran for 64 episodes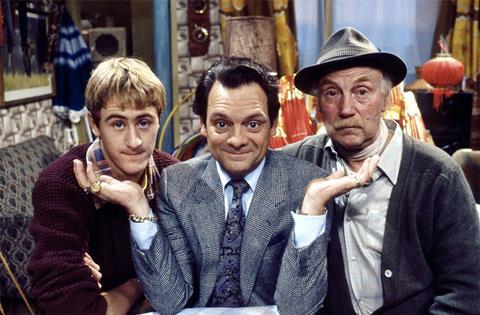 A new sitcom from Citizen Smith writer John Sullivan hit our screens on this day in 1981, based on two South London rogue traders.
Del Boy Trotter and his younger brother Rodney made their living selling dodgy merchandise in a Peckham market. It was part of a number of attempts, primarily led by Del Boy, to make money via rich quick schemes.
The pair lived in council flat in a high rise block, Nelson Mandela House, with the elderly Grandad, played by Lennard Pearce. Later, following Pearce's ultimely death, younger brother Uncle Albert (Buster Merryfield) would move in with Del and Rodney.
The series also featured a host of regular returning characters including car dealer Boycie and his wife Marlene, road sweeper Trigger, lorry driver Denzil, bartender Mike and later the brother's wives Raquel and Cassandra.
The show ran for twelve years, with regular specials up to 2003, spanning a total of 64 episodes. Reception to the series was lukewarm at first, but over time it became a big hit with viewers and the 1996 episode 'Time on Our Hands' attracted over 24 million viewers. The sitcom collected numerous awards including the BAFTA award for best comedy series in 1985, 1988 and 1996.
A spin-off series, The Green Green Grass featuring Boycie and Marlene ran for four series (2005-2009) and a prequel, Rock & Chips, ran for three specials in 2010 and 2011. The show was even adapted for a West End musical which was being performed at the Theatre Royal Haymarket, before lockdown.