National Geographic Channel's popular Killing… franchise helped establish the broadcaster as a drama player, but six-part global event series Mars is being pitched as one giant leap for the brand.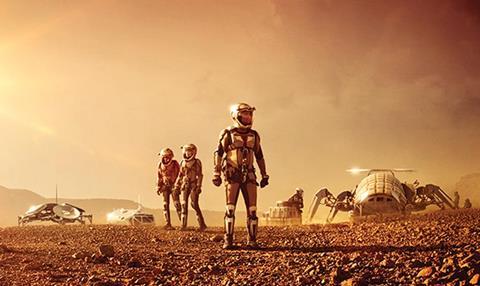 Distributor Fox Networks Group Content Distribution
Producers Imagine Entertainment; Radical Media
Length 6 x 60 minutes
Broadcaster National Geographic Channel (international)
Premiering in November across Nat Geo channels in 171 countries, Mars is set in 2033 and tracks the first manned mission to the Red Planet, where the crew of the Daedalus spacecraft try to build a sustainable colony.
The series blends cinematic scripted elements with CGI as well as documentary-style interviews with inventor and chief executive of Tesla Motors Elon Musk, StarTalk host Neil DeGrasse Tyson and Mars Society president Robert Zubrin, among others.
The project is the most recent collaboration between Nat Geo and super-producers Brian Grazer and Ron Howard. The pair's Imagine Entertainment previously worked with the broadcaster on the innovation series Breakthrough, which will have a second season launch at Mip TV.
Radical Media also came on board for Mars, with scripted portions directed by Days Of Grace film-maker Everardo Gout.
Prentiss Fraser, senior vice-president of global content sales at Fox Networks Group Content Distribution, says the company – which found success in 2014 with the DeGrasse Tyson-hosted series Cosmos: A SpaceTime Odyssey – had looked at the project for a few years, and "it seemed to be the right time to bring it in this fall".
The Budapest-shot series is about "50% scripted, 50% factual", with a "huge calibre" of visual effects, says Fraser.
And if the ruddy aesthetic recalls the Matt Damon-starring The Martian, the exec notes the production did "borrow some elements" from the Hollywood film.
So what makes Mars a global event? "It's a top Hollywood attachment; it has top scientific minds; it's a new style of factual storytelling for the market; and, of course, it's available in 4K," says Fraser, adding that the programme's scripted elements also open up a new pool of potential buyers in territories and platforms outside of Nat Geo's stable of global channels.
"The Nat Geo sales team has traditionally focused on the factual arena, so this is definitely going to be popular in the SVoD space as well as free-to-air."
Nat Geo is pulling out all the stops for Mars. A promotional short-form scripted prequel will launch before the series premiere, and the channel is also creating a digital virtual reality experience.
In addition, it will create a Mars Experience installation in New York in October and publish a standalone book, Mars: Our Future On The Red Planet.
Courteney Monroe, chief executive of National Geographic Global Networks, will introduce an exclusive first-episode screening in Cannes.
Earlier this year, Monroe promised the brand would apply a "fewer, bigger, better" programming strategy – an approach on which it has so far delivered, with titles such as Grazer and Howard's Breakthrough, Morgan Freeman- fronted series The Story Of God, and now Mars.
Another big swing on the horizon for Nat Geo will be Peter Kosminsky's four-part Isis drama, which it is co-producing with Channel 4. The latter is expected to land around this time next year